Disney+ Adds Content Disclaimer To 18 Episodes Of 'The Muppet Show'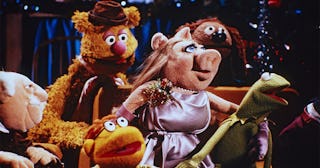 United Archives/Getty
Disney+ has flagged 18 classic episodes of The Muppet Show as having harmful content
Anyone who spent their weekend doing what they should have been (bingeing the five classic seasons of The Muppet Show that just got added to Disney Plus) likely noticed something: Certain episodes of the show were given the same content disclaimer that Disney has added to older movies like Dumbo and The Aristocats.
RELATED: Best Disney Toys To Keep Kids Living Their Most Magical Lives Right At Home
Even though The Muppet Show is widely thought of as one of the most family-friendly shows ever made, it turns out that some parts of it were "products of their time," as apologists like to say. Eighteen episodes of the show received that content warning, for a variety of reasons, but here are some examples: Johnny Cash performed in front of a Confederate flag. A muppet dressed as a Gypsy performed a pretty offensive song called "I Sniff the Rose." Steve Martin did a whole bit where he made fun of Chinese languages. The list goes on, and it includes similarly harmful depictions of Native people and people from the Middle East.
The disclaimer is the same one used for other content that Disney has similarly flagged on its platform. It reads, "This program includes negative depictions and/or mistreatment of people or cultures. These stereotypes were wrong then and are wrong now. Rather than remove this content, we want to acknowledge its harmful impact, learn from it and spark conversation to create a more inclusive future together. Disney is committed to creating stories with inspirational and aspirational themes that reflect the rich diversity of the human experience around the globe."
"As part of our ongoing commitment to diversity and inclusion, we are in the process of reviewing our library and adding advisories to content that includes negative depictions or mistreatment of people or cultures," Disney says in a statement on their site. "Rather than removing this content, we see an opportunity to spark conversation and open dialogue on history that affects us all. We also want to acknowledge that some communities have been erased or forgotten altogether, and we're committed to giving voice to their stories as well."
The Muppet Show episodes that received that disclaimer included ones with hosting or guest starring roles from Cash, Martin, Jim Nabors, Joel Grey, Peter Sellers, Cleo Laine, James Coco, Spike Milligan, Crystal Gayle, Kenny Rogers, Beverly Sills, Jonathan Winters, Alan Arkin, James Coburn, Joan Baez, Debbie Harry, Wally Boag, and Marty Feldman. In addition, an episode that featured writer Chris Langham was left out entirely. Langham was sentenced to 10 months in prison in 2007 for a number of crimes, including child pornography charges.
Naturally, the internet is full of not-so-hot takes on this from people who are tired of "cancel culture," and I'm not going to give space to their words here. If "cancel culture" were a thing, the show wouldn't be available for you to watch, dingbats. It's not canceled. It's being viewed through the lens of a society that has learned and grown over the last few decades and now openly recognizes harmful behaviors that were and still are wrong. Watch The Muppet Show all you want, but know that we're better as a society because we're learning from the things we did in the past.
This article was originally published on