The First Trailer For 'Murder House Flip' Is Here
by Christina Marfice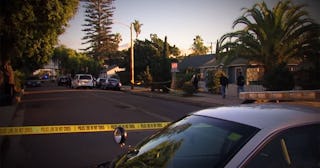 Quibi/Youtube
Murder House Flip is the TV show we need to get through these trying times
Ever wanted a house in a sought-after suburb, only to find there's no way in hell you can afford it? Ever dreamed of living in a beachfront property, only to have those dreams dashed by the price tags that come with such prime real estate? That's basically the entire premise of a new series coming to the mobile-first streaming platform Quibi next month. Homebuyers have found a clever loophole for getting the properties of their dreams at fixer-upper prices: They just buy houses where people have been murdered. No, really.
The first trailer for Murder House Flip, the series we never knew we needed, dropped today, and somehow, it's even better than we could have imagined.
In the first half of the trailer, we meet some of the homebuyers.
"We always wanted to live in this neighborhood. It's a happy, cheerful place," one man tells the camera, which then pans to a woman we can only assume is the show's host.
"So, this is where the bodies were buried?" she asks.
That's right. Murder House Flip just went zero-to-sixty. Just like that. And in case you're wondering, yes. That is where the bodies were buried. Seven of them, to be exact.
That's when the music switches to a dramatic, bass-pumping techno song, and all our lucky homeowners start talking about the gruesome acts that occurred in the properties they were able to buy on the cheap. "This man killed his wife, right here where my husband is sitting," one woman tells the camera. Another deadpans, "To afford to live by the beach, we had to buy a house where a guy chopped his wife up." It's some macabre content, for sure, but Murder House Flip is actually here to help these families, by renovating the houses and maybe performing exorcisms, it's unclear.
At the very least, we hope the renovations change the layouts of these homes so the poor people living in them can no longer point to exact locations where murders took place. And we get a few looks at what the Murder House Flip renovation process might dig up — literally, including murder weapons and body parts.
The series is set to premiere April 6 when Quibi launches. If you hurry, you can still snag a 90-day free trial ahead of the launch, and watch Murder House Flip for free.