11 Music Coloring Pages That Really Rock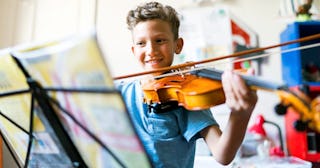 Portra/Getty Images
In the wise words of Henry Wadsworth Longfellow, "Music is the universal language of mankind." It doesn't matter if you can't carry a tune in a bucket or play a lick on the guitar. Music has the innate ability to transcend any barriers and speak to every soul. Of course we want to teach our kids all about the magic and power of music! And to help you in that melodious endeavor, we present a collection of free music coloring pages. Yes, they're a ton of fun — but you can also file them under an excellent education at-home activity. Talk about music to any parent's ears, right?
As your kiddo colors, lean into all the musical vibes. Play classical music on streaming speakers. Tell some music jokes. Read your little musically included artist the fascinating music facts we've sprinkled through the pages. If you have a musical instrument in your home, take breaks to let your kid freestyle on it. The more you can do to foster a love of music in your child, the better!
If all the music inspires you to keep the educational quality time going, hey, we've got you covered. You can move right along to our numbers coloring pages, shapes coloring pages, and alphabet coloring pages.
Free Printable Music Coloring Pages
Music Page No. 1
This singing trio looks like they're having a blast! And you know what? There's some science behind that joy. Research has shown that singing in a group offers myriad physical, mental, and emotional benefits — belting it out with others floods the body with feel-good hormones while reducing those that cause stress to spike.
Music Page No. 2
You probably already know that your brain plays a big part in the way you perceive music. But did you know that listening to music activates pretty much every area of your brain? Fun fact: The most expensive instrument is the "Lady Blunt" Stradivarius violin. In 2011, it was sold for $15.9 million.
Music Page No. 3
Something tells us these kids are going to ace any upcoming tests! What gives us that hunch? Studies show that students who play musical instruments or study music score higher on standardized tests. They also exhibit high levels of confidence, team-building skills, and creativity. And just look at all those musicians. Did you know that there are more people in Monaco's orchestra than in the country's army? After all, music is a powerful tool…
Music Page No. 4
Another major benefit of playing music? It actually boosts the efficacy of your cardiovascular system. Or, to put it in kid-friendly terms, it helps your heart. A study conducted by the University of Pavia in Italy found that music triggers psychological changes that can lower blood pressure and heart rate. Your heart may even synchronize with classic music as it's played! Did you know the song with the longest song title is called "I'm a Cranky Old Yank in a Clanky Old Tank on the Streets of Yokohama with my Honolulu Mama Doin' Those Beat-o, Beat-o Flat-On-My-Seat-o, Hirohito Blues."
Music Page No. 5
Travel is one of the best teachers, in our opinion, as it exposes children to people, places, and culture outside of their home bubble. If travel isn't in the cards for you right now, though, crank up the music. Music affects perception in a way that shapes the way you see the world. Try studying different places around the globe with your children through music.
Music Page No. 6
Ask your kid to use their imagination by coming up with a song this band might be playing. We imagine it's probably an earworm — aka the kind of music that gets stuck in your head on a loop! Fun fact: These are also referred to as "brainworms," "sticky music," or "stuck song syndrome." And did you know Bartolomeo di Francesco Cristofori made the first piano in 1709? He was an Italian harpsichord maker.
Music Page No. 7
Do you play a musical instrument? If you do, take good care of it and be on the lookout for potential treasures at second-hand music stores. In 2011, a "Lady Blunt" Stradivarius violin sold for a world-record-setting amount of $15.9 million. Did you know that in 2016, Mozart sold more CDs than Beyoncé?
Music Page No. 8
This gentleman looks like a conductor, or the lead of an orchestra. Interestingly, the word orchestra comes from a Greek phrase meaning "dancing place." And the when the word first appeared in English, it meant "the art of dancing."
Music Page No. 9
Now this is a truly dynamic scene, don't you think? Perhaps this band is making their way around the globe, playing for crowds all over the world. To date, only one band has played on all seven continents: Metallica.
Music Page No. 10
This looks like a scene from the movie School of Rock! While it's easy to imagine these kids are rocking some heavy metal, we like to think they're doing a riff on a classic piece of music. After all, that genre remains popular too. In fact, in 2016, Universal Music Group released a box set album on the 225th anniversary of Mozart's death. And that year, Mozart outsold Adele, Drake, and even Beyoncé.
Music Page No. 11
Hands aren't the only thing you can use to represent peace. Did you know the mistletoe, dove, rainbows, and white poppies are also symbols of love and harmony? Encourage your kids to create their own symbol of peace. It will be interesting to see what they come up with!
Click here to print all of the music coloring pages at once!
This article was originally published on