Outraged By The 'Muslim Ban' Executive Order? Here's What You Can Do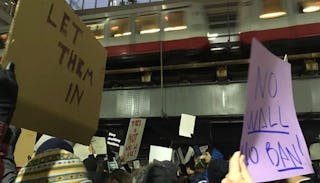 Christine Organ
By now we've all heard about the executive order the president signed on Friday suspending the entire U.S. refugee program and banning legal immigrants from seven specific countries. If you haven't yet heard about it, you can read more here. Go ahead, I'll wait. Because this is something you need to know about.
When I first heard about the president's order, I put my head in my hands and cried. You see, this order impacts my family in a very personal way. For the past month or so, we have been collecting supplies and coordinating the resettlement process for a soon-to-arrive refugee family. My basement is currently filled with boxes and bags filled with supplies to furnish their apartment. I have been setting aside clothes and looking for furniture. And later this week, we were scheduled to host a few other families for our refugee mentor training session.
But aside from the personal impact, I'm angry and weeping with the rest of the country too. We're shaking our fists and demanding that this be fixed now. We're sobbing over the refugee families and children — oh my god, the children! — who are denied entry. We're pissed the hell off at the legislators and government officials who are standing by and letting this happen. And we're grieving for the destruction of everything America stands for as a nation.
Like I said, we're angry, sad, and confused, but we're also ready to act! We want to help. We want to show up, rise up, and speak up against this hate. We want to do something because we can't sit by and let this happen. But because so many of us can get immobilized by the overwhelming nature of the problem, we're not sure how to help. Well, rest assured, we've got you covered. Here's a list of several things you can do, whatever your situation.
Reach out to local Muslim communities.
Find a local community Muslim mosque or community center and reach out. Call them. Send an email. Stop by and visit. Let them know you stand with them and support them. Ask what they need in this time of national crisis. Share some kindness, even if it's a small token of love and support. For instance, the night before Inauguration Day, I picked up flowers and left them outside the front door of the area mosque so that they were there to greet the community before morning prayer. And over the past few days, I've reached out to those people I know who might be hurting or personally affected by this order to let them know I am thinking of them and support them. We're all in this together, after all.
Educate yourself on immigration and refugee laws.
There are a lot of misconceptions about U.S. immigration laws and the refugee process, and the president has resorted to fear-mongering to push forward policies of hate and discrimination. In order to have a meaningful discussion on the issues, and fight for what is just and right, it is important to understand the issues.
One major misconception is that the refugee vetting process is lacking, when in fact, refugees in the United States undergo an extensive vetting process before they are even allowed entry into the country. According to the U.S. State Department, refugees from all nationalities considered for admission to the country are subject to the highest level of security checks, including multiple applications, interviews, biometric tests, medical screenings, and cultural training sessions with various federal agencies. What's more, refugees from Syria undergo an enhanced level of review before arriving in the United States. By learning more about immigration and refugee policies, we can work to fight the hate and fear.
Donate to the ACLU.
The American Civil Liberties Union (ACLU) is chockful of amazingly talented lawyers who are fighting with a capital F for those people immediately affected by the executive order. On Saturday night, the ACLU successfully argued before a federal judge for the Eastern District of New York, obtaining an emergency stay that blocks the deportation of all people stranded in U.S. airports because of the president's executive order. This is just the first step in a much larger fight, and many of the battles in this fight for justice will be fought in the courts, with the ACLU leading the charge. So put your money where your mouth is and donate, donate, donate. Become a member and make monthly contributions, or make a one-time donation. No amount is too big or small.
Protest.
This evening my son and I had plans to go on a dinner/movie date, but when I explained to him what the president had done when he signed the executive orders and that there was a protest going on at O'Hare International Airport, he said he wanted to do that instead. We didn't stay long — only about 45 minutes — but we stayed long enough to show our support, shout a few chants, and raise our voices up against the hate.
Donate to refugee organizations.
Nonprofit resettlement organizations work to help refugees adjust to life in the United States and ease their transition. Even though all refugee entries have been halted, these organizations are still helping refugees who have recently arrived in the country. According to RefugeeOne, a resettlement organization in Chicago (and the organization our family was working with to co-sponsor a refugee family), the nearly 1,000 refugees the organization welcomed to Chicago last year still need help. You can find information about resettlement agencies in your area here. Contact an area resettlement agency and find out what specific needs they might have.
Attend an interfaith vigil.
If protesting isn't your thing, you can attend an interfaith vigil in your area. A quick Google search will usually turn up area events, or you can search on Facebook. Oftentimes these services are filled with candles, positive energy, prayers, readings, and words of hope that can lift up a weary spirit.
Call your legislators.
Call daily, weekly, as often as possible. A quick two-minute phone call to your state representatives can go a long way in letting them know that we do not support the president's immigration/refugee executive order. If you're unsure of what to say, here is a sample script:
Hello, My name is __________. I'm calling to denounce the president's recent executive order banning immigrants from seven countries and blocking all refugees' entry into the country. These actions do not represent our American values of religious tolerance, equality, and diversity. I urge Senator/Representative _________ to take a stand against these un-American executive orders. Thank you.
You can find the names, addresses, and phone numbers for your representatives here and your senators here. Most of the time, when I call my representatives, the whole process takes less than three minutes. And don't worry if you're nervous or emotional. My voice often shakes, and this week when I called, I actually started crying on the phone. But who cares? It's important for our members of Congress to know that we care deeply about these issues.
Support organizations dedicated to fighting the immigration and refugee ban.
There are several advocacy groups and legal nonprofit agencies focused on seeing the executive order overturned. Visit their websites and follow them on social media. Contact them directly and find out what their immediate needs are.
Use your professional skills.
If you're a lawyer, volunteer to help a local immigration lawyer on a nonprofit basis. If you're a teacher, educate your students about U.S. immigration laws and the refugee vetting process that is already in place. If you're an accountant, offer to give free advice to organizations dedicated to causes you believe.
DO NOT LOSE HOPE.
Do not despair. Keep fighting the good fight. There is more love than hate in the world. The world is a good and beautiful place because we will make it so.
This article was originally published on