Why My Ex And I Are Getting Matching Tattoos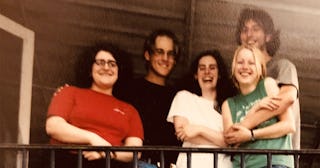 Courtesy of Eliza Broadbent
My ex-boyfriend and I are, as his belated birthday present, getting matching tattoos. This isn't just any ex-boyfriend. This is the guy I dated the longest: my boyfriend from my senior year of college, through the summer, during my first year of graduate school, and through that next summer. We spent spring breaks together. He visited my house, 700 miles from his own, and I spent plenty of time at his. I loved his mom. I loved his dad. I'm still Facebook friends with his little sister this many years later.
But once this pandemic mess ends, Joey and I will visit my favorite tattoo artist, Bearded Matt, we'll sit in the hard-backed black chairs with the cushy seats, look at all the crazy posters, and go under the (tattoo) gun. Bearded Matt will tattoo the inside of my left calf, and probably his forearms.
They'll be matching tattoos, each in our own handwriting. Or not. I may ask Joey to write mine, if he can do it legibly enough.
My husband has consented to this plan.
Why My Ex-Boyfriend?
Joey is one of my oldest friends. I've always dated my best friends, because who else would I have rather spent time with? We met around the time Bush II invaded Iraq, and our relationship started as co-organizers of the student protest movement at our university. We spent a lot of time marching and talking into megaphones. He knows politics better than anyone I've ever met: name a precinct in our state, and he can explain its significance and special interests.
He was, and remains, one of the smartest men I know. I'll be proud to share a tattoo with him.
And everyone loves Joey. Everyone. He's literally the kindest person I've ever met (that includes my husband, a statement my spouse would agree to). We broke up, in part, because everyone loved him so much that it was like dating Jesus Christ, if Jesus were 6'4 and Southern (he's humble enough to object vehemently about that). Our friends blamed me for every argument, which I always won, because Joey was too nice to actually argue. They'd shake their heads: I wasn't good enough for him. They won't be shocked we're getting the same tattoos, either.
But I always dated my best friends. So, other than a brief period of hurt after our breakup, Joey and I stayed best friends. He met my then-boyfriend, now my husband, and became good friends with him. He became such a good friend that he served as a groomsman in our wedding.
Yeah, my ex stood on the altar as I recited vows to my husband.
If I'd have had my way, he'd have served as my maid of honor.
My kids call him "Uncle Joey." He's one of the few people I've seen during the pandemic (we had a socially distanced yard visit). Joey has slept over at my house—when my husband was away with the kids. That's how much we love and trust him. Matching tattoos? That's nothing.
But Why Matching Tattoos?
Joey and I talk via Messenger and phone about once a week, often more. One morning, I'd woken at 4 a.m. with insomnia. I saw his Facebook status was active, figured he'd left his computer on, and shot him a message. I was shocked to see a message pop back. Joey also had morning insomnia, so we messaged fast and furious for about an hour.
During the conversation, my plans for more ink came up. When he heard what I was getting, he said something like, "Man, I want that tattoo, too." I'd missed his birthday a few weeks before, because I always miss his birthday (I suck at birthdays. He never misses mine). So I offered: let's get matching tattoos. We could go together to my artist when the pandemic ended, and it could be his birthday present.
He said yes, that would be awesome.
The words are meaningful to both of us. But now they're especially meaningful to me because Joey will have the same words tattooed on his arm. Tattoos are forever. You can't take them back. When you die, that tattoo, if you're old, has blurred, but it's still there. You take it to your grave.
I want to go there knowing Joey and I share those words. He's my best friend other than my husband. We've weathered war protests, election nights, holidays, relationships. When Stephen Colbert ran for president, he snagged me a signed yard sign. When Obama spoke at our university, he scored me a press pass. When my husband left town for a week and I was desperately lonely, he drove two hours, took me to the bar, and hung out while I got my very first tattoo.
My Husband Doesn't Mind Us Getting Matching Tattoos
My husband sighed about my planning more ink. He didn't care at all that Joey and I were getting matching tattoos. He also loves the hell out of my ex. When Joey visited us in May, my husband fed him. He was as happy to see Joey as I was. He doesn't care that my best friend happens to be a guy.
Joey and I aren't in love with each other. Those feelings changed a long time ago—on both ends. People grow and change, and their feelings change with them. It's inevitable. We were lucky. Joey and I valued each other enough to work past our breakup and maintain the part of our relationship that was always the most important to begin with: our best friendhood. My husband understands that, and he trusts Joey enough to know that his feelings remain those of a best friend, not a boyfriend. I'm lucky I have a husband who's secure in my love for him. I'm also lucky to have a best friend who'll get a matching tattoo with me.
This article was originally published on