Naomi Osaka Was 'Terrified' To Release Her New Netflix Series
by Erica Gerald Mason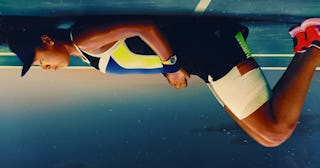 Netflix
Osaka took to Twitter to open up about her new doc, Naomi Osaka: Playing By Her Own Rules
Naomi Osaka took the world by storm after her 2018 U.S. Open victory over Serena Williams. Following Osaka's nod as ESPN's Female Athlete Of The Year, a new, three-part docuseries arrived on Netflix titled Naomi Osaka: Playing By Her Own Rules; and on the day of its premiere, Osaka took to Twitter to reveal she was "terrified" of the doc's release.
Osaka, who came under fire after withdrawing from the French Open and Wimbledon to focus on her mental health, was worried that the series would bring new criticism "in light of everything that happened recently I was terrified of this being released," she tweeted.
"This isn't like a tennis match where I win or lose and from there people can say whether I did well or not," the tennis star, whose namesake Barbie has already sold out after debuting last week, shared in a candid post. "This is a look into my life from certain time periods and I can't fight the feeling of wondering how will it be received."
"You just have to keep going out there every day trying to figure stuff out… Everyone's built differently. So we all have our different strengths," Osaka writes.
As she looks forward to viewers understanding her decision-making process through the docuseries, which has been in development for two and a half years, Osaka also reflected on the opportunity to share her life story with fans.
"I hope there are pieces that people can relate to and maybe other pieces that would help people understand why I make the choices I make," she says. "If it doesn't that's cool too, it took me a while but I realize that I can't please everyone and I'm really not trying to. When I go to sleep at night I can only hope I am at peace with myself and I hope the same thing rings true for anyone reading this. I'm excited/nervous for you guys to see it and I hope you enjoy it lol. Love you all and stay safe."
Her candid remarks about prioritizing her mental wellbeing has been lauded by many who feel the toll of pretending everything is ok.
Earlier this month, Osaka wrote an essay for Time where she told readers "it's OK not to be OK."
"I do hope that people can relate and understand it's OK to not be OK; and it's OK to talk about it. There are people that can help, and there is usually light at the end of any tunnel," she said. "Michael Phelps told me that by speaking up, I may have saved a life. If that's true, then it was all worth it."