Natural Playgrounds Are Freaking Awesome (And We Need More)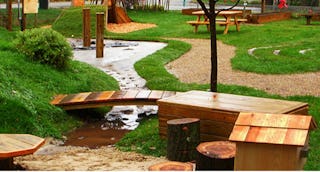 naturalplaygrounds.com
My kids' favorite place to play is a heritage preserve that is 30 minutes from our home. There's the drive, then a long hike down a steep hillside of slippery yellowish clay. It emerges, finally, into a clearing with an 8-foot trickle of a water, a small creek, stumps, sticks, trees, dig-able sandy soil, rocks to climb, and a sandstone wall full of tube worm fossils. My kids whoop and run when they see the waterfall, and I ensconce myself under a tree for at least two hours while they play.
They run, leap, shout, dig up acorns, float things in the creek, play with pebbles, trace fossils. They climb the rocks, after scanning carefully for snakes. They hunt for crawfish and minnows, though they never find any. Finally, we head home up the hill — muddy, exhausted, chugging water from Nalgenes because everyone is exhausted.
This heritage preserve is the closest thing to a natural playground that we have in the whole damn state, and I don't think my kids' love of it is any coincidence.
A natural playground, according to PDX Parent, replaces the traditional metal and plastic of kids' playgrounds with "sticks and stones, water and sand, logs and stumps." They've long been popular in Europe, and now they're popping up all over the United States. While it's impossible to pinpoint the number of natural playgrounds in the United States, the movement is clearly growing.
Play tends to look something like this: USA Today describes 4-year-old Jade gathering a bucketful of sand, adding some water from a nearby spigot, and tossing in some wood chips. "I'm making soup!" she says.
My kids like to dig in the dirt with sticks and try to climb trees. They make mud and paint with it. They'd fit right in with the kids in the 600-person survey Natural Playgrounds conducted, which asked children to name their favorite thing to do outside. The top choice was "Being Quiet" and included things like drawing and finding sticks and carving them. Next was "Building/Inventing Things" — building forts, building tree houses, building "something," inventing. Third on the list was "Climbing" — climbing trees, mountains, anything. Exploring, digging, and playing around water also made the list. And while someone said they liked "hanging upside down," no one named monkey bars or swing sets.
Probably because monkey bars and swings aren't enough. The journal Child Care Information Exchange says that children need constructive play: play involving "the manipulation of material to create things." It includes activities like making mud pies, digging in the sand, and siphoning water; collecting rocks, building forts, and painting with mud. Constructive play "teaches important skills and develops critical cognitive concepts" and "develops children who are flexible problem-solvers." But it's often the least-available type of play on traditional playgrounds.
USA Today reports that "child development experts say children learn creativity and autonomy" when they're playing with the loose parts found in nature: sticks and stones and mud and pebbles. Basically, playing in natural spaces is good for kids' developing brains.
According to Nature Play WA, natural playgrounds give kids more chances to develop their gross-motor skills than traditional swing-and-slide playgrounds. Moreover, they report that researchers at the University of Washington found that "contact with nature has been associated with a number of health benefits for children, such as improved cognitive function, increased creativity, improved interaction with adults, reduced attention deficit hyperactivity disorder symptoms and reduced rates of aggression."
Nature Play WA names a number of other benefits to natural play that researchers have also discovered. Children who play outside more are less likely to get sick, depressed, or anxious. They behave better and tend to be more physically active; they have more positive feelings about each other and reduced bullying behavior.
Basically, you want your kid outside in nature as much as possible.
Of course, there are some detractors. The senior landscape architect for Seattle Parks and Recreation told USA Today that sand, a cave, and a hill weren't enough for kids (well, duh). Parents, he said, requested conventional equipment. And Joe Frost, a retired professor of education and a paid member of the Board of Advisors for the International Playground Equipment Manufacturers Association's Voice of Play outreach campaign, says that natural spaces aren't enough for kids' development. "Certain physical skills are established through built equipment that are difficult to provide through natural materials," he says. "For instance, they need climbing structures." It seems that we evolved quite well without manufactured monkey bars, and as for climbing structures, maybe he's never heard of trees, but I do get the appeal of the traditional climbing structures and slides.
Natural playgrounds bring all the benefits of nature play to the middle of the city or the back of an elementary school. Parents don't have to drive 30 minutes and then hike down a slick clay hill like I do. Not that parents aren't driving to natural playgrounds. Portland's Westmoreland Park has become "a destination playground for families from around the city, looking for a different kind of day at the park." They're popular, they're beneficial, they are fun, and depending on the elements, they cost no more than a traditional park to maintain.
Natural playgrounds are awesome for families. And we need more of them.
This article was originally published on