The Names Of The Kids Most Likely To Misbehave
by Rita Templeton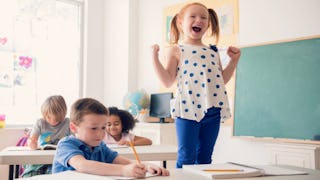 JGI/Jamie Grill/Getty
Could your kid's name influence how they act in school? According to a study shared by the website Mother & Baby, your little Louise or Tom may be doomed to disciplinary issues … but if you have an Emily or a Joshua, accolades just might be in order.
Now before you jump to defend your unfortunately-named angel's honor, let's point out a few things about this "study."
First of all, the one (re)circulating isn't even the newest version; it's just one of those Internet things making a reappearance. The names most popularly going around were actually found to be from the 2014 study, where Ella and Joseph topped the naughty list, with Amy and Jacob heading up the nice.
So let's take a look at the latest data, shall we?
Every year, around Christmas time — which is fitting, considering that kids are being divided into "naughty" and "nice" lists — UK-based company School Stickers releases their annual findings. Throughout the year, they track the behaviors of over 36,000 kids via online sticker books — in the process, getting an idea of which names seemed to garner the most positive (and the most negative) stickers.
That being said, what constitutes "good" and "bad" behaviors is completely arbitrary, based off the discretion of the teachers who are doling out the stickers. Obviously, the results could be a bit skewed, if one teacher marks, say, nose-picking as a bad behavior, where another shrugs it off as just another booger flicked blithely onto the reading carpet.
So have you destined your offspring for trouble simply because of what they're named? Let's get the riffraff out of the way and start with the kids who frequently landed on the naughty list (according to the data released in late-November 2019):
Girls
Alexandra
Esther
Faith
Lydia
Nicole
Tia
Summer
Libby
Aimee
Imogen
Boys
Logan
Harrison
Liam
Jacob
Leo
Jamie
Owen
Connor
Michael
Archie
And here we have the rundown of those squeaky-clean kiddos who made the good list most often:
Girls
Sophie
Jessica
Olivia
Emily
Grace
Chloe
Megan
Ella
Ruby
Emma
Boys
Jack
Joshua
Harry
Oliver
Charlie
Thomas
Ethan
James
Daniel
Matthew
This study doesn't take into account the ages of the kids, or the popularity of the names, or a bunch of other factors — so take it with a grain of salt, because its accuracy is questionable at best. (In fact, I can personally attest to that: I have a Cameron — rated a disheartening #2 on the 2014 naughty list — who is actually the least likely of my four kids to make trouble at school.)
Even the company itself says, "Obviously this is all just a bit of Christmas fun and nonsense, and we are proud that our products motivate and inspire young people, whatever their names."
But "fun and nonsense" though it may be, it does serve as a reminder of how much power our names can have over our lives. They can subtly indicate things — true or not — about our background and our character, and those assumptions can shape how people behave toward us.
It's already been proven that there's a bias toward unique names when it comes to the workplace. And an (actual, legitimately scientific) study published in the APA Journal revealed that our faces change to match the social perception of our names: "The face-name match implies that people 'live up to their given name' in their physical identity," its conducting researchers say.
Our names can have an unexpected impact on multiple facets of our daily existence: such as where we live, what we do, and who we spend our lives with. Studies of a phenomenon called "implicit egotism" have shown that since we generally have a high opinion of ourselves and our choices, we're more likely to be attracted to things that share the letters or sounds of our own names. For example, a woman named Georgia has a higher chance of moving to Georgia. A man named Dennis (or a woman named Denise!) has higher odds of being a dentist.
When it comes to choosing a partner, research reveals that we not only tend to gravitate toward people who share an initial or two with us, but a long-term study of marriage records shows that we're disproportionately more likely to partner up with someone whose surname is similar to ours. (This is mind-blowingly accurate for me personally; my maiden name is Wolverton, my married name is Templeton.)
So while your kid's name might not really indicate how much of an asshole he or she is going to act like at school, it's definitely an important factor that will influence their personality, their chances of employment, and the perception of others, for the rest of their lifetime.
… No pressure or anything.
Looking for a name that won't land your kid on the naughty list? Check out the Scary Mommy Baby Name Database!
This article was originally published on