I Didn't Know How Much I Needed Black Breastfeeding Week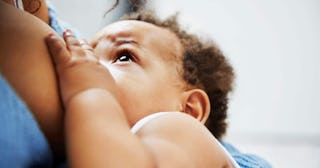 Compassionate Eye Foundation/David Oxberry/Getty
It's officially Black Breastfeeding Week. The celebration of Black motherhood and feeding chocolate milk to chocolate babies kicked off on August 25, and this is the eighth year it's been celebrated. I first heard about BBW four years ago, and in that time I've breastfed two babies.
Per the CDC's most recent data, only 74% of Black infants are ever breastfed as compared to 86.6% of white infants and 82.9% of Hispanic infants. (Rates for indigenous moms are often overlooked, which is its own problem and why Native Breastfeeding Week is celebrated Aug. 11 -17th.)
We've also found that those who receive assistance, like WIC or SNAP, are less likely to breastfeed regardless of race, as are young mothers. In other words, as a young, Black mother, receiving WIC when I had my first child, my chances of finding support and continuing to nurse long-term (let alone the two-year goal established by the World Health Organization) were even lower than the 35.9% of infants who are still nursing at a year.
The need for Black Breastfeeding Week is also motivated by the following:
1. The infant mortality rate is almost three times the national average.
2. Black children are more likely to suffer from chronic illnesses related to diet/stress/etc. Breastfeeding has been found to help combat some of that risk.
3. There are hardly in Black professionals in reproductive health, including but not limited to lactation professionals
4. Cultural myths and the aftermath of slavery and wet-nursing give breastfeeding an additional layer of shame in the Black community.
5. Access to support from a former breastfeeder is harder to find for Black moms.
That data is overwhelming when thrown at first time Black moms trying to make sense of a world colored by racism and sexism. It definitely was for me. I wanted to do all I could to fight against those factors. Black Breastfeeding Week, with help from general movements like National Breastfeeding Month, gave me the support I needed to keep pushing when I wanted to stop.
Over the years, the significance of Black Breastfeeding Week in my life has evolved. The first year, I was a new mom breastfeeding for the first time just trying to make sense of what it meant to feed a child with your body while facing the stigma and criticism that came with public discomfort around nursing. I had to learn that feeding my baby was more important than other folks' comfort, especially since I wasn't doing anything out of the ordinary.
The second year, I was more secure in my right to feed but I had a desire to find a network of people who understood the ways that breastfeeding stigma is shaped by the race (and often the gender identity) of the nursing parent. I filled that need by finding Facebook groups dedicated to Black mothers.
Last year I was concerned with the socioeconomic barriers that made it harder for Black women (and others impacted by classism) to breastfeed. I ditched the "breast is best" rhetoric for specific cost-effective and lifestyle-appropriate feedback for folks who approached me interested in nursing but decided it wasn't a fit for their lives.
And this year, I'm most interested in spending less time shaming those who formula-feed and more time making donor milk accessible to all.
When I started breastfeeding, I was a young mother in my early-20s who didn't know much about the world, let alone nursing.
I was lonely as one of the very few Black women in the Midwest. I didn't have much support from my family and I was regularly encouraged to nurse out of view from everyone else. I started to feel like there was something "dirty" about nursing my children, and hearing stories of Black women forced to wet nurse white babies didn't make me any more comfortable.
It was an uphill battle fighting public (and personal) opinions to keep nursing. But in the back of my mind, I knew we couldn't afford to buy formula anyway. The benefits for me and my son were significant, for sure, but even if had wanted to formula-feed, we didn't have the money to add another item to our grocery list.
The more I learned, the more layers I added to my understanding of health and social inequality. I hadn't imagined that nursing could be an introduction to so many different social as well as health topics, but here we are. I understood that both my baby and I were at a higher risk of death, and I wanted to mitigate those risks by breastfeeding.
Before starting my nursing journey, I expected breastfeeding to be simple. Either you did it, or you didn't. Four years and two babies later, I understand that breastfeeding isn't easy and the barriers are many.
I understand that the biggest predictor of breastfeeding success is support – therefore, it's vital that we develop culturally-tailored interventions that make breastfeeding accessible to Black women, who are more likely to fall through the cracks.
National Breastfeeding Month, which is observed the full month of August, addresses a few of the social concerns associated with breastfeeding, such as the mental exhaustion, the anatomical challenges, and the lingering stigma. But it doesn't address the ways each of these uniquely impact Black women.
The discourse that developed from Black Breastfeeding Week met me where "regular" breastfeeding concerns left me struggling. It was a resource that tackled what it meant to nurse in public when your body is already hypersexualized. Black women and girls have some of the highest reports of sexual assault, as society seems to believe our bodies are community property- a message taught during slavery.
Our bodies are regularly criticized and those perspective seep into our nursing experiences. By engaging with folks in Black Breastfeeding groups, I learned the words — and the laws — that might protect me when others tried to make nursing about sex instead of nutrition.
Black Breastfeeding Week offered the tools I needed to navigate what it meant to be Black and nursing, feeling overworked and undervalued in our role as a mother, and in a world that doesn't allow us to be vulnerable.
But the best thing Black Breastfeeding Week gave me was a sense of community. National movements regularly ignore the struggles of Black women. It is important to feel centered, and to have our experiences highlighted.
Since those early days, I've learned so much about Black women's reproductive experiences. It's now clear that breastfeeding, like all other areas of Black women's health, is at risk due to personal and institutional racism in addition to all the typical challenges other nursing mothers face.
There will always be moments when we're underserved and overlooked in the world of reproductive health. But each year, we're making strides towards creating the resources we need to be the best parents possible, in spite of adversity.
This time around, my breastfeeding experience has gone miraculously smoother than the first. A large part of that difference can be attributed to knowing what to expect and where to find assistance.
I've also learned that there are still millions of Black women who give birth without the support or resources required to make the long-term benefits of breastfeeding accessible. I used to be that mom, so I feel personally responsible for bridging the gap and being that support to those in need.
This article was originally published on