Netflix Is Playing Trailers Between Episodes And The Internet's Not Having It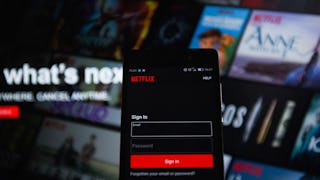 Omar Marques/SOPA Images/LightRocket/Getty Images
Bingeing your new favorite show may get slightly more annoying with Netflix Original ads added between episodes
Streaming television giant Netflix has begun adding trailers for their original content in between episodes during limited tests — and their test subjects are a little upset.
Netflix often experiments with ads and ad placements, but interrupting a good binge with ads for other shows was a bridge too far for some users, who sounded off on Twitter.
Netflix has responded to criticism with a statement that stresses that they're always looking for new ways to connect users with the content that they will love–and also that they can skip commercials at any time to start their new episode without interruption.
"At Netflix, we conduct hundreds of tests every year so we can better understand what helps members more easily find something great to watch,' the statement reads. "A couple of years ago, we introduced video previews to the TV experience, because we saw that it significantly cut the time members spend browsing and helped them find something they would enjoy watching even faster. Since then, we have been experimenting even more with video based on personalized recommendations for shows and movies on the service or coming shortly, and continue to learn from our members."
They didn't just defend their "previews" in general, but also their new particular test of commercials in between episodes.
"In this particular case, we are testing whether surfacing recommendations between episodes helps members discover stories they will enjoy faster," they said. "It is important to note that a member is able to skip a video preview at anytime if they are not interested."
Advertising is nothing new at Netflix. The subscription TV service regularly runs trailers, especially for their own shows, and makes viewing suggestions to their users. They also, according to CNBC, engage in product placements in their shows that range from $50,000 to $500,000 per episode. For example, one Stranger Things episode shows a group of characters eating KFC before one comments, "This is finger-lickin' good!"
Netflix, as well as users online, added that users can opt out of all sorts of ad experiments by going to netflix.com/donottest.
But while this will save you from any of Netflix's dabbling in commercials and ads, it won't save you if the company decides to make the between-episode trailers a permanent feature of the website.
Of course, even if that does happen, the final reaction will probably be similar to this guy's:
This article was originally published on