Netflix Party Lets You Binge-Watch Shows With Your Friends During Isolation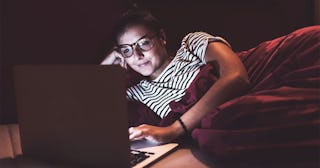 Westend61/Getty
The Netflix Party Chrome extension lets you "watch" shows with friends even during self-quarantine
As global citizens are being asked (and in some cases, forced) to practice social distancing to combat the spread of coronavirus, the constant quarantining is taking its toll on people. During self-quarantine, your only option for human interaction with people other than immediate family is meeting up with a pal at a park and talking to one another from six feet away. Most of us are sitting at home 24/7, cooking canned food, and ordering takeout. But fear not, social butterflies, because Netflix Party is here to save you.
Netflix Party is a third-party app that lets you simultaneously watch Netflix shows with friends and connect everyone in a group chat to discuss what you just watched. If you previously looked forward to your weekly book club meet up, maybe just link up to watch The Office together for a virtual hang. The app isn't new, but it's found a resurgence in relevance during the coronavirus pandemic.
People on social media are calling it a "corona hack" and posting instructions on how to watch your favorite shows with those you love.
To start your "party," download the extension, open a video in Netflix, click on the "NP" extension in the Chrome browser and hit "start party," and then send that link to friends.
Remember Netflix and chill? Now there's "Netflix and quarantine" and yikes!
But mostly, people are commenting on how it's helping with moral during these isolated times.
"Y'all. Y'ALL. I discovered a Chrome extension called Netflix Party that lets you syncro-watch Netflix stuff in a chatroom with your friends, and it is ridiculously fun and good for morale," someone on Twitter wrote. "I'm watching bad Nic Cage movies with my friends and I am verrrry happyyyyy right now."
Others said that they can't wait to "Watch" with long-distance family members.
"I miss my sister and we were talking about how we were going to watch some shows together when I moved to her area—move is postponed now, so this is AWESOME," another wrote.
The only catch is that Netflix Party is only available on Google Chrome at the moment, so download the extension from NetflixParty.com or on the Chrome store.
For many it's important to stay in touch with friends and family as COVID-19 news is constantly being updated and we don't know how long these social distancing practices will remain in place, and you don't want to risk infecting someone just because you're desperate to connect with another human.
Stay safe, browse Netflix, and download the Chrome browser. You're welcome.