Netflix Is Doing A 'She-Ra' Reboot And We Officially Have Hope For 2018
by Valerie Williams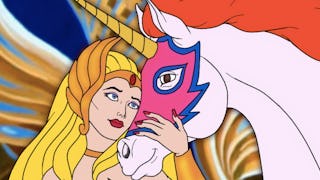 Image via Screenrant/Twitter
She-Ra is coming back and we need her more than ever
This year has straight-up sucked for women, right? It's easy to feel defeated in the era of Donald Trump and Harvey Weinstein (and countless others) but we do have some good news to close out this dumpster fire shitshow of a year.
She-Ra is coming back. Yes, you heard that right.
Oh hell yes, Netflix is making our childhood girl power dreams come true with a reboot of the classic 1980s cartoon series featuring a bad-ass powerful princess who took absolutely no shit from anyone. Eisner award-winning author and executive producer Noelle Stevenson is bringing a more modern version of She-Ra to 80s kids (and their kids) in 2018, and we can't freaking wait.
Netflix is calling the reboot "a modern take on the '80s girl power icon for a new generation of young fans" and all I have to say is THANK YOU NETFLIX, because I turned 36 this week and was feeling less than youthful.
I kid. But not really. I have every intention of binge-watching this amazingness with both my tweenage daughter and eight-year-old son, because who couldn't benefit from seeing incredible displays of super rad girl power?
According to their press release, Netflix is bringing back the same idea of the original series with a more modern vibe. "The trailblazing property originally debuted in 1985 to satisfy overwhelming demand for a female lead fantasy series. With Stevenson's unique voice at the helm, fans are in store for an epic and timely tale that celebrates female friendship and empowerment, lead by a warrior princess tailor made for today."
So does that mean She-Ra gets an iPhone and a completely fire Instagram account? Regardless, we remember her as pretty damn powerful and amazing, even in the version we watched as preschoolers. We can only imagine how much better she will be with genius female creative direction and an updated twist.
Twitter is also pretty excited by the news, which was so sorely needed for us girls these days.
https://twitter.com/jetpack/status/940699090924347392
The best part? Stephenson confesses that the remake is literally years in the making, so this is probably going to exceed all our wildest girlhood dreams.
Is it 2018 yet?
This article was originally published on