The Spooky Content Coming To Netflix This Month Will Warm Your Black Heart
by Christina Marfice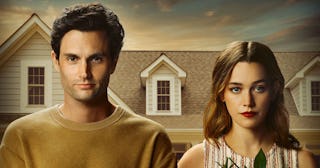 Netflix
Everything that's coming out on Netflix this month is proof that Spooky Season has officially arrived
It's finally October! That means a few important things: Summer is definitely over. Libra season has arrived. And so has Spooky Season, that delightful time of the year when the leaves turn crunchy, the wind howls like a ghoul, and the nightly witching hour feels the witchiest it's been since, well, last October. And if you needed any proof that Spooky Season is here, just look at the list of new movies and shows that are coming to Netflix this month. It's definitely time to pop some popcorn, make some hot cider, cozy up under a blanket, turn off all the lights, and get ready to be spooked.
We truly have so much to look forward to this month up to and including the new season of You which features Joe and Love as parents to their new baby and that's guaranteed to put a chill down anyone's spine. There's also tons of news series and movies, new and old, to keep you entertained this October.
Netflix has even brought in horror queen Elvira herself to help explain why you simply need spooky content this month:
Here's what's coming up for the next several weeks' worth of scary nights:
Available on Netflix today, Oct. 1
The Cave
The Devil Inside
Ghost (1990)
Are You Afraid of the Dark?: Season 1
Available on Netflix starting Oct. 5
Available on Netflix starting Oct. 6
There's Someone Inside Your House
Available on Netflix starting Oct. 8
Available on Netflix starting Oct. 9
Available on Netflix starting Oct. 13
Available on Netflix starting Oct. 15
Sharkdog's Fintastic Halloween
YOU: Season 3
Available on Netflix starting Oct. 20
Available on Netflix starting Oct. 27
Hypnotic
Roswell, New Mexico: Season 3
There's also plenty of spooky content that Netflix added in September, including:
Into the Night: Season 2
Lucifer
Prey
Nightbooks
Squid Game
Intrusion
Midnight Mass
The Chestnut Man
No One Gets Out Alive
The Guardian
Hotel Del Luna: Season 1
Labyrinth
Level 16
Mars Attacks!
The complete Jaws saga
Dark Skies
In other words, if you want to watch something spooky every single day of Spooky Season, you can do that — and you only need one streaming service to do it. You know Dr. Elvira wholeheartedly approves.
BRB, getting every one of these queued up. Catch ya in November, just in time for Netflix to start rolling out its holiday movies.
This article was originally published on