New Mom's Thank You To Awesome Flight Attendant Goes Viral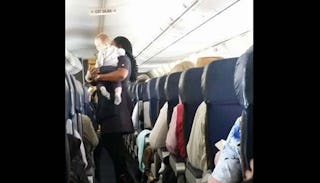 Mom's amazing experience with Southwest flight attendant goes viral
Anyone who's traveled with young children knows what a nerve-wracking disaster it can be. Even if your children don't act up, you're still so afraid they might that you're wound tight for the entire flight. It's really unfortunate that it's gotten to this point: parents are so afraid their children will act human on a flight, it turns us all into a bunch of nervous wrecks.
That's why it's so refreshing to travel with the help of a flight attendant that gets this stress, and tries to alleviate it. Heather Gooch was traveling with her husband and infant son the week after Christmas, on a flight from Florida back to their home in New York. The attendant on their flight saw their infant getting antsy while they were eating their lunch, and walked him up and down the aisles so they could eat in peace.
Can you imagine? Who is this angel? The couple posted a picture of her in a message they sent to Southwest, trying to somehow get their sincerest thanks to her.
They told the airline, "Dear Southwest, I'm hoping you can share this post so that I can be sure that it finds its way to a very special Southwest flight attendant. All I know about her is that her name is Anisse." They explained the details of the flight they were on, and how Anisse went "above and beyond" to make their flight as amazing as possible: "I wanted to thank her and let her know how appreciated she is. We so often hear about the negative things going on so I wanted to share this story of a someone who made my trip a little brighter."
It worked. The message reached Anisse, and she showed up in the comments of the post to explain why she's so accommodating to families on her flights:
"I tell adults all the time on my flights, children are doing exactly what they are supposed to do… make noise!" Anisse explains, "I would honestly rather hear them make noise and even cry than to hear an adult whine!" How much do you love this woman? Other families showed up in the post to tell her how wonderful she'd been to them — on different flights:
"I highly doubt you would remember us but you were a passenger on your way home on our flight from St. Louis to Orlando and were the nicest flight attendant I have ever encountered." It's so nice that this woman is getting some attention for doing a wonderful job and making people happy.
The story is a good reminder: going above and beyond to make someone else feel better about their situation can start a landslide of goodness. This post has been shared nearly 50,000 times and liked over 350,000 times. Anisse's small act of kindness ended up putting a smile on the faces of thousands of people.
That's just awesome.
This article was originally published on