New Law Gives $125 Tax Credit To People Who Adopt Rescue Pets Instead Of Shop
by Julie Scagell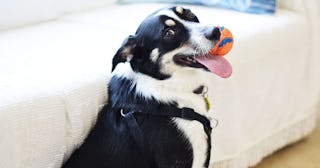 Sarah Brown/Unsplash
New York would be the first state to pass a law giving tax breaks for adopting animals
Rescuing a pet is one of the most rewarding, heartwarming things a person can do for an animal. There are so many pets in need of loving homes in shelters across the U.S. and one state is taking it upon themselves to give back to those who do.
A new law under consideration in New York State would give tax credits to people who rescue pets. According to WIVB, the credit would give pet owners who adopt up from any animal shelter a $125 credit per pet that they adopt. At present, the bill only includes domestic animals like dogs and cats. The premise of the credit is to cover the cost of adoption fees. It also incentivizes animals lovers to "adopt instead of shop" from animal breeders.
One shelter in Minneapolis can attest to what waiving adoption fees really does to help animals in their care. Minneapolis Animal Care and Control waived adoption fees for all pets, including dogs, cats, and birds for one day in November with the goal of getting all their animals adopted before thanksgiving. Their fees, which usually range from $10 up to $1000 for Minneapolis residents called their "clear the shelter" and they made good on the name — every single animal was adopted. Having that financial relief made all the difference to those who were able to give an animal a loving home.
According to the ASPCA, there are approximately 6.5 million companion animals that enter U.S. animal shelters nationwide every year. Of those, approximately 3.3 million are dogs and 3.2 million are cats. Of those, approximately 1.5 million shelter animals are euthanized (670,000 dogs and 860,000 cats) every year. There are so many animals in need of loving homes and a law like this may just be what some people need to be able to make the commitment to adopt.
Shelters and foster homes do so much to ensure animals find their forever homes. From hilarious ads to big marketing efforts to word of mouth, they work tirelessly (most on the generosity of donations) to care for and love these animals until they can find a human of their own. This law would likely help more animals get adopted, which means shelters will have more space to take in even more strays, drop-offs, and rescues.
There is no word on whether the bill would also allow rescue organizations to get a tax credit or if owners who rescued/adopted pets previously would be eligible for the credit, but it's clear it is a giant step forward in helping get these fur babies into loving homes. Here's hoping if this bill passes, other states will follow suit.
This article was originally published on