New Zealand PM Confirms That Easter Bunny And Tooth Fairy Are 'Essential'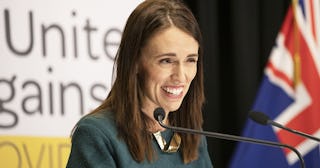 Mark Mitchell/Getty
New Zealand just added two VIPs to the essential workers' list: the Tooth Fairy and the Easter Bunny
In these trying times, we could all use a little reassurance. This feels especially true for little ones, right parents? Which is why the latest reason to love New Zealand's Prime Minister Jacinda Ardern is a major one — in a news conference on Monday, the incredible leader made a few crucial distinctions to set kids' minds at ease.
"You'll be pleased to know that we consider both the Tooth Fairy and the Easter Bunny to be essential workers," she explained in a completely serious tone, although taking care to add, "But as you can imagine, at this time, of course, they're going to be potentially quite busy at home with their family as well and their own bunnies."
If the current coronavirus social distancing and quarantine protocols prohibit these beloved figures from making house-calls, parents have a solid explanation thanks to the PM. "So I say the children of New Zealand, if the Easter Bunny doesn't make it to your household, we have to understand that it's a big difficult at the moment perhaps for the bunny to get everywhere," emphasized Ardern.
She went on to offer sweet, family-friendly suggestions for celebrating Easter. Just as citizens have taken to creating "bear hunts" and "stuffed animal safaris," why not have a social-distancing-appropriate Easter egg "hunt" in your neighborhood? In lieu of the traditional social Easter festivities, Ardern suggests drawing colored eggs and taping them to windows for local children to find. She even included that idea in a special Instagram post directed at worried kiddos.
Got a few tears welling up in your eyes? Join the club. As we navigate the unprecedented measures being put into place due to the global health crisis, Ardern's is the type of leadership you look for: decisive and practical, yet simultaneously thoughtful and compassionate. It's a far cry from the leadership some of us (cough, US) are currently struggling to understand.
In the midst of such dark days, Ardern is somehow still managing to spread a little magic. She may not be the leader we all have, but she's the kind of leader we all need right now.
This isn't the first time in the coronavirus outbreak that New Zealand's prime minister has been praised for her measured response. For starters, New Zealand has what epidemiologists like Professor Michael Baker have pegged as the "most decisive and strongest lockdown in the world at the moment" — a nationwide lockdown instituted on March 25 (that's working, if the low count of 1,106 cases and only one confirmed death is any indication).
Ardern also holds daily televised briefings and routine Facebook live sessions to address key questions and issues in a way that is palatable for the public. And when it comes to her people, she clearly believes that everyone is actually essential.
When asked about deferring to herd immunity as a strategy, she responded, "In New Zealand we never, ever considered that as a possibility, ever. Herd immunity would have meant tens of thousands of New Zealanders dying, and I simply would not tolerate that."
This article was originally published on