8 Gifts For The Divorced Mom You Adore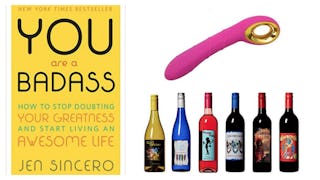 amazon.com
So, you have a friend who is fresh out of a divorce. You've wiped her tears, you've cheered her on, hell, maybe you even helped her burn her ex-husband's underwear. But you want to do more. You know she has a long road of change and growth ahead of her and you want to feed her soul, make her laugh, and let her know how much she means to you.
So get out the credit card, you may need some of these items for yourself too.
I'm divorced. Believe me when I tell you a vibrator is a must-have — even for our shy friends. Maybe she doesn't miss the man, but she misses getting off, I can assure you. The MP.S female rechargeable vibrator with its "generous length and bending head" will get it done. I mean, it's pink and gold, doesn't fart in its sleep or leave the door open while taking a shit. Your newly single friend needs this in her life, because while she is probably not ready to share her bed, she still needs to get hers.
What mom — single or married — doesn't want an assortment of wines? And with names like Candy Babee, Risk Taker, and Pleasure Party, this Craft Wine Mix Pack is a divorced mom's playground of happy juice.
After all that solo excitement, she's going to be tired and craving a long soak in a big tub. LifeAround2Angels Bath Bombs will clean her up and make her feel fizzy in all the right places. Who needs Calgon to take you away when you can have an orgasm, then sit in warm water, and throw in a bath bomb that moisturizes, relaxes, and won't stain your tub. $24.80 buys your bestie 12 nights of tub time.
After all the orgasms and relaxing, it's time to bust out the good stuff, and by that, I mean chocolate. Godiva does it right every damn time. This gold gift box will make her feel special, and can be stashed under the bed for an emergency or torn open immediately. Twelve pieces cost $28.54, and it's so worth it.
And since you know her better than everyone, you might be aware she enjoys the junk. So just get her the good stuff. All her favorite chocolate bars in king size. No messing around with the small shit. For $37.99, you can send her 20 treats. My friend sent this to me, and it arrived the night my ex moved out. I devoured half of it.
Even if self-help books aren't her thing, You Are a Badass by Jen Sincero is a must-read. It's a fast, fun read that will make her laugh out loud and embrace her inner diva. I've read it twice, and it helped change my way of thinking when shit gets hard. For under $10, she just might get a new lease on life.
Every woman loves a shiny new bauble to throw on with their favorite jeans for girls' night out or little black dress when she decides it's time to get out there again. My go-to is this silver number by Kate Spade. It's under $75 and is a classic piece that will never go out of style.
This 100% cotton bathrobe is like getting a nice warm hug. She can wear it all day on Sunday, throw it on after her bath, and eat as much chocolate as she wants wearing this number. It's so much better than pants. And for under $30, you should buy one for yourself and wear it over to her house for a This Is Us marathon. Nothing soothes the soul like an evening crying in front of the television with your best pal.
As their friends, we don't always know what to do. But we can all agree presents make the heart grow fonder and Amazon makes it super easy to spoil our them — they deserve it.
This post contains affiliate links, which means we receive a small portion of the sale if you make a purchase using these links.
This article was originally published on