Gov. Newsom Signs #FreeBritney Conservatorship Reform Bill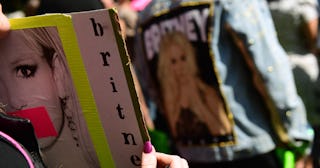 (Chelsea Guglielmino / Getty Images Entertainment)
Britney Spears just won another massive battle in the fight against her father and the toxic conservatorship he controlled
Even though Jamie Spears was just officially removed from Britney's conservatorship team, there is still a ways to go in terms of the #FreeBritney movement. Spears's case has captivated the nation, and what was once a grassroots activist movement to end Britney's conservatorship has now turned into a national issue demanding action not only for our girl Brit, but also for others in exploitative conservatorships who don't have several documentaries outlining the horrors of their reality for the public. On Sept. 30, California took a step in the right direction as Governor Gavin Newsom signed a law to reform conservatorship laws in the state.
AB 1194, AKA the #FreeBritney bill, aims to close loopholes potentially exploited by professional conservators and hold them to a higher standard. The now-law requires conservators to disclose their fees online and also prohibits financial conflicts of interest involving said conservators. It also makes it mandatory for nonprofessional conservators who oversee an estate valued at $1 million or more to register as a professional.
In other words, there is no way Jamie Spears would possibly be allowed to rejoin Britney's conservatorship team
If a conservator wasn't acting in their client's best interest — like, say, they were bugging their client's communications devices, like Jamie did with Britney — the law promises stronger enforcement actions.
"California's conservatorship system is failing people from every walk of life, whether they are a global superstar whose struggles unfortunately play out in public or a family unsure of how to take care of an elderly parent," said California Assemblymember and bill author Evan Low in a statement after the signing. "This bill saw unanimous, bipartisan support throughout the process because it's painfully clear that we can and should do better." While most of the law's provisions won't go into effect until 2023 or 2024, this is a step in the right direction.
What comes next for Britney in terms of conservatorship
Britney's next hearing is set for Nov. 12, during which the full termination of the conservatorship will be considered. Jamie Spears called his suspension from Britney's conservatorship team a "loss" for his daughter, whom he said he loves "unconditionally" through a statement released by his attorney Vivian Thoreen. "The court was wrong to suspend Mr. Spears, put a stranger in his place to manage Britney's estate, and extend the very conservatorship that Britney begged the court to terminate earlier this summer," the statement continues.
"Despite the suspension, Mr. Spears will continue to look out for the best interests of his daughter and work in good faith towards a positive resolution of all matters," Thoreen concluded. It is not clear if that means he will attempt to rejoin the conservatorship team come Nov. 12, or if he will agree to terminate it entirely, as his statement claims he was initially in favor of. We're rooting for you, Brit.