139 Short And Popular Nicknames That Make For Even Cooler First Names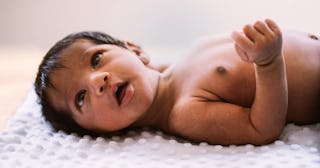 Nicole De Khors/ Burst
If you're currently in the naming process of your pregnancy, you're probably ready to pull your hair out. There are thousands of options! You're a fun-loving couple and you don't want anything too formal. My grandmother named her kids Kathy, Randy and Rodney. Why? She said, "If you're going to call your child by a nickname, why not just name them that?" It's an interesting premise. One that, the more you think about it, sounds pretty smart. Maybe "Leonardo" is too stuffy, but "Leo" is just right. Perhaps, after five generations of "Elizabeth," you're looking for a change but don't want to completely throw tradition out the window. "Liza" might be the perfect alternative. We've collected the best "proper names" and listed all their possible nicknames.
Boys Names
These 25 super popular but formal boys' names can be shortened to create 72 nicknames that also make great first name options.
1. Alexander – Al, Alex, Lex, Xander 2. Andrew – Andy, Drew 3. Benjamin – Ben, Benji 4. Charles – Charlie, Chuck, Chucky 5. Christopher – Chris, Topher 6. Daniel – Dan, Danny 7. David – Dave, Davie, Davy 8. Gabriel – Gabe 9. Henry – Hank, Harry, Henner 10. Jacob – Coby, Jake 11. James – Ames, Jamie, Jay, Jim, Jimmy 12. Joseph – Jo, Joe, Joey, Seph 13. Leonardo – Len, Lenny, Leonard, Leo 14. Lucas – Lucky, Luke 15. Maxwell – Max, Mac 16. Michael – Mick, Mickey, Mike, Mikey 17. Nathaniel – Nathan, Nate 18. Nicholas – Nick, Nicky, Nico 19. Philip – Phil, Lip 20. Robert – Bert, Bob, Bobby, Rob, Robbie 21. Samuel – Sam, Sammy 22. Theodore – Ted, Theo, Thor 23. Thomas – Tom, Tommy, Tom Tom 24. Tobias – Tobe, Tobie 25. William – Bill, Liam, Ted, Will
Girls Names
Having a little girl? We pulled 67 adorably short and simple nicknames from these 17 more formal names. Which do you like?
1. Abigail – Abbie, Abi, Gail, Gale 2. Alexandra – Alex, Allie, Lexie, Xandra 3. Amelia – Amy, Mia, Millie, Mimi 4. Andrea – Andie, Drea 5. Charlotte – Charlie, Lottie 6. Eleanor – Elle, Ellie, Nora 7. Elizabeth – Betsy, Libby, Liz, Liza, Lizzie, Beth 8. Gabriella – Brie, Briella, Gab, Gabby 9. Isabelle – Belle, Bella, Iz, Izzy, Elle, Ella 10. Katherine – Kathy, Kat, Kate, Katy, Kitty, Kit, Reeny 11. Mackenzie – Mac, Maisy, Kenzy 12. Margaret – Gretta, Maggie, Margot, May, Peggy 13. Michelle – Mia, Michie, Chelle 14. Olivia – Liv, Livvy, Olive 15. Rebecca – Bec, Becky, Becca, Reba 16. Sophia – Fifi, Sophie, Soph 17. Victoria – Tori, Toria, Vic, Vicky
Read More:
This article was originally published on