Nicky Hilton On Mom Guilt And The Best Parenting Advice She's Ever Gotten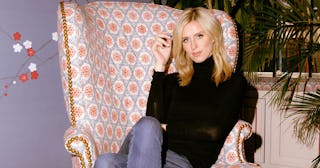 Courtesy of Nicky Hilton
Nicky Hilton Rothschild is a fashion designer, but she's also a mom — she shares daughters Lily Grace Victoria, 3, and Theodora Marilyn, turning 2 in December, with her husband James Rothschild. The pair married in 2015, and now that their daughters are here, Hilton Rothschild is living that busy, working mom life. The last few years of mothering and designing have taught her a few things that she shared with Scary Mommy.
Finish this sentence: Motherhood is…
…extremely rewarding.
What's the grossest part of motherhood for you?
Diapers will never, ever get fun. Luckily, I am about to get out of that stage with my youngest. I don't know if I would call it gross, but one of the worst things is definitely being on airplanes with children. Not so fun.
What's the best parenting advice you've ever gotten?
"It's not what you say, it's what you do." So for example, if I'm going to berate my children for screen time or bad manners, I then can't sit there glued to a phone and not say please or thank you. It doesn't matter what you tell them, you must lead by example. They do what you do.
When's the last time you used your kids to get out of something you didn't want to do?
My husband and I have a rule that we will never fake a child illness to get out of something. There's just some bad karma about it and we refuse to do that.
What's the least amount of sleep you can function on?
About 2.5-3 hours.
If you ever feel "mom guilt" how do you handle it?
I absolutely do. If I'm ever suffering from mom guilt, I usually cancel everything I have and take my girls out for a day of all of their favorite things. Going to the park, going to get ice cream, going to Chelsea Piers and playing in the soft play.
So of course the holidays are coming! Do you have any favorite traditions that have to happen every year?
Growing up, the holidays were a very big deal in the Hilton household. I have inherited a lot of traditions from my family which I am now passing on to my children. For example, every Christmas we would go to Radio City Music Hall's Christmas Spectacular, ice skating at Wollman Rink, Christmas lunch at Doubles. I am also so thrilled that FAO Schwartz has reopened in New York because that was such a big part of my childhood and I was so bummed when it closed and that my children would never be able to experience it. But now they will, kind of, although I don't think you can compare it to the iconic 5th Avenue one.
Tell us a little about your shoe collab with French Sole. We see lots of adorable and stylish flats.
I am such a flats girl, they are such a chicer alternative to sneakers. They're perfect for the school run, running around doing errands, meetings. Classic and chic. Way better than sneakers.
We agree with her and the designs are extremely versatile for any wardrobe and very appropriate for school pick-up.
The Fall '19 capsule collection is comprised of chic and comfy ballerina flats, loafers and pumps ranging from $150 – $250. Each design is named after women who have inspired, motivated and supported Hilton Rothschild, with The Kathy (her mom) and The Paris (her sister). Handcrafted in Spain, the Nicky Hilton x French Sole collection is made with the finest leathers and velvets, with each shoe sharing a signature sole in Nicky's favorite shade of powder blue.
The collection is available on French Sole's website and through Zappos.
This article was originally published on