Volunteers Dress NICU Babies As 'Presents' For Their Parents
by Mike Julianelle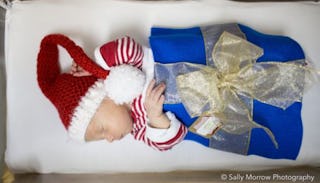 Image via Sally Morrow Photography
Missouri NICU helps premature babies get into the Christmas spirit
Back in October, a hospital in Kansas City helped families with premature babies have a special Halloween by dressing the infants up in tiny superhero costumes. This Christmas they are at it again, barely stopping short of decking the kids with boughs of holly.
The nurses in the neonatal intensive care unit at St. Luke's Hospital in Kansas City, Missouri are at it again.
This past fall, they adorably adorned their patients in superhero swag, helping stressed parents endure a more frightening Halloween than normal as their kids eased their way into the world with a little bit of assistance. As Christmas approaches, the NICU nurses are on theme, this time dressing the kids as the gifts they are.
Together with March of Dimes volunteers, the nurses dressed 31 preemies as Christmas presents, complete with handmade hats and a special note for their parents.
March of Dimes explains in a statement provided to Scary Mommy, "Each of our NICU families was given a keepsake "Twas the Night Before Christmas" card with their baby's own footprint drawn into a mouse, a hand-crocheted Santa bag filled with candy, and a hand-crocheted Santa hat or girl's cap with a bow, along with a keepsake holiday book that the family may read together. Families who celebrate Hanukkah were given beautiful blue and silver presents and keepsakes, and families who celebrate Kwanzaa were given red, green, gold and black gifts."
"The holidays can be an especially emotional time for families in the NICU. Babies here are usually born premature or sick, and they may spend weeks or months growing healthy enough to go home," Michelle Manuel, a representative for St. Luke's Hospital, says. "So providing these special families with an opportunity to celebrate the holidays in a memorable way allows them a sense of normalcy, and an opportunity to celebrate their babies' first milestones — even in the hospital — which is what every family wants to do!"
The results were about as absurdly cute as you'd expect.
Oh, and Santa paid these teeny patients a special visit too.
Kudos to the nurses for going the extra mile to make a holiday season that's both more stressful and more miraculous than ever just a little bit easier to bear for harried parents worrying about their babies. The kids look great, and considering how delicate the costume-making process and how painstaking the wardrobe changes had to be, it's beyond impressive that the hospital made this happen.
A NICU full of crying babies isn't exactly the most peaceful place to spend the Christmas season, but thanks to March of Dimes and St. Luke's staff, parents are being reminded, quite literally, of what a gift they've received.
This article was originally published on