10 Things I Experienced When My Baby Was In The NICU
by Stephanie O. for The Mighty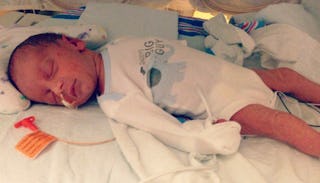 Stephanie O.
When I called my OB the Friday before Christmas because I had an excruciating headache, she told me to go to the hospital and get my blood levels checked. When we got there, I was immediately admitted. The doctor said I was in liver failure and that it was time to start the induction to have my son. I was 35 weeks pregnant, had no hospital bag packed, the nursery wasn't finished, and I just kept thinking: It's too soon.
A doctor from NICU came to see us to discuss all of the possible complications that could come with having a late-term preemie. Everything she said after "NICU" sounded like Charlie Brown's teacher. My heart was racing. I was in panic mode. All I wanted was a healthy baby.
At 5:01 a.m. on Christmas Eve, I gave birth to my son via cesarean section. I remember hearing him cry and then waking up in recovery. He wasn't there. My husband explained they had taken him up to the NICU immediately, but he was breathing fine and everything would be OK. Nothing could have prepared me to wake up without my newborn there to hold, or for the many things that came after.
These are things no one told me about the journey of having a baby in the NICU:
1. The 'Congratulations' Messages
When we announced our baby's birth on Facebook, just about every response we got was, "What an amazing Christmas gift! Congratulations." But is it an amazing Christmas gift? To have a baby you can't hold? That you are watching from outside a plastic box and not knowing if they will make it through the night?
2. Being on the Same Floor as Other Mothers
To make matters worse, they put the mothers of babies in the NICU on the mother/baby floor, so all night I got to hear cries of all these babies who were healthy and safe with their mothers.
3. Not Being Able to Hold My Son for Two Days
Those two days felt like hell. Why could the nurses hold him or move him around, but we couldn't? The day we finally held him was so amazing, except we couldn't hold him for longer than 10-to-15-minute periods because his body temperature could drop. It was bittersweet. Our baby spent another two days in the "tanning bed" to help lower his high bilirubin levels. We weren't allowed to hold him on those days either.
4. The Term 'Wimpy White Boy'
Did you know "wimpy white boy" is a commonly used term in the NICU world? The staff kept telling me that Caucasian males tend to be the last ones to leave the NICU. I think they wanted to ease my mind that this was all "normal" and our baby was growing at a typical pace, but I don't think I've ever heard such a defeating term.
5. The Discharge—Not Our Baby's, But Mine
I can honestly say, knowing I had to leave him there in the NICU alone was one of the hardest moments of my life. Walking out of the hospital without a baby was devastating. It felt like my heart was being ripped out of my body. I spent the next 24 days after being "discharged" as I went back and forth to the hospital, spending almost the entire day by his bedside.
6. The Power Struggle Between Parents and Nurses
I felt like there was a constant power struggle between some of the nurses and my husband and me. There were nurses who were willing to let us hold our son, change his diaper, and try to feed him because they knew it was what we all needed. It helped us feel more like parents.
But other nurses were more cautious and fought us about feeding him from a bottle so as to not fatigue him. They'd counter our requests for skin-to-skin contact because he really needed his rest. While many of our nurses were great, the feeling that I didn't matter or have control of my own child's life is one I'll never forget. I'm eternally grateful for the nurses and doctors who advocated for us and allowed us to feel like parents.
7. The Instability of Each Day
I think the worst part of all of this was that NICU is an unstable world. Anything can change on any given day. On day 19, we were told our beautiful baby would most likely come home that afternoon or the next. We were ecstatic. We went home to prepare the house, and while we were at home, we got a phone call that he had something called a bradycardia episode (meaning his heart rate had dropped) and couldn't come home. He was put on 48-hour surveillance. We waited our 48 hours and stayed in the nesting room they had for parents. In the 46th hour before discharge, the alarms went off again, and our boy had another episode. It was like we kept getting so close to the finish line, but something kept holding us back from bringing him home.
8. Celebrating Things I Never Expected to Celebrate
Nothing is taken for granted in the NICU. It's all one tiny step toward the ultimate goal. I remember the moment I made my first ounce of breastmilk and took it to NICU with such pride and excitement that I did something that could help my baby. I remember getting to hold him—first for five minutes, then 10 minutes, 20 minutes, up to an hour. For someone who didn't get to hold her baby for days, every second more was heavenly. Then there was him drinking out of a bottle. Every bottle (starting at 20 ccs) he drank was one step closer to going home. Or the first time we could put him in a cute outfit. But taking him home was obviously the best feeling in the world. It's the day our journey began as a family unit of three.
9. What Never Crossed My Mind as a New Parent
The NICU was a mental roller coaster I couldn't get off. Heck, almost three years later, I'm still on the roller coaster of complications related to prematurity and developmental delay. We're lucky to have medical interventions and a place to allow babies with the weakest immune systems to grow, heal and thrive, but it's not supposed to be where your newborn ends up.
I'm forever appreciative to the NICU nurses and doctors who watched over my baby for those long 28 days. I realize they all had his best interest and end goals in mind when deciding our involvement. But as a new parent, it never crossed my mind my baby wouldn't be coming home with me, let alone that someone would tell me if I could touch or hold him.
10. A Bond Only Other NICU Parents Understand
I felt guilty calling myself a preemie mom because my son was born at 35 weeks and I had friends with babies born much earlier. But whether your baby spends a day in NICU, a week, a month or many months, it's a bond only other NICU parents can have.
It does get better after you come home and realize you're in the driver's seat now. Enjoy your baby in every way you can. Know you will continue to celebrate them for things you never expected. And love them for who they are, because in the end, the struggles you felt as a parent are nothing compared to everything they have overcome.
Suggested Reading:
Why I Want to Warn the Woman Who Took This Photo When a Cashier Reminded Me My Son Has Down Syndrome
This article was originally published on