Woman's Song About Her Cancer Journey Earns Her AGT Golden Buzzer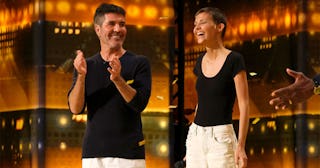 Trae Patton/NBC
A singer who has cancer with a 2 percent survival rate gave a Golden Buzzer-worthy performance last night
Okay, fam, this is one of those stories about chasing your dreams and keeping a certain pure, wide-eyed optimism, even through extreme hardship. It's the kind of story that's both inspiring and tear-inducing, so take a minute to gather some tissues and emotionally prepare to fall in love with someone you've never met. We good? Good. Now we can begin: legendary tough guy Simon Cowell was overcome with emotion on America's Got Talent after pressing the Golden Buzzer for Jane, an Ohio native who performs under the stage name Nightbirde. For her audition, the singer gave a raw performance of a song she wrote called "It's OK," which she penned about her life with cancer.
"Last time I checked, I had some cancer in my lungs, spine and my liver," she told judges Cowell, Heidi Klum, Sofia Vergara, and Howie Mandel. "It's important that everyone knows I'm so much more than the bad things that happened to me."
Nightbirde wowed judges when she said, "You can't wait until life isn't hard anymore before you decide to be happy."
Prior to appearing on AGT, Nightbirde posted a photo with the lyrics of "It's OK" as a caption.
"I've still got some magic in me / I can't see it but I still believe / Yeah the music stopped, but I'll still sing / Pretty beat up, but I still got dreams."
"I was absolutely mesmerized. Every year we meet the most extraordinary people on this show. She's an amazing person with an incredible talent and she's truly an inspiration," Simon Cowell told PEOPLE about Nightbirde's powerful stage presence.
"I pushed my Golden Buzzer for Nightbirde because everything about her audition was really special. Her voice was absolutely stunning and performing her original song 'It's OK' after she told us what she was going through with her cancer, it really moved me. This was a very, very special moment," he told the magazine.
Nightbirde took to her Twitter account in the days leading up to her audition; the singer could barely contain her excitement.
The golden confetti dusted the stage, and Cowell joined Nightbirde onstage to celebrate her achievement. The singer told the crowd, "I have a two percent chance of survival but two percent is not zero percent. Two percent is something and I wish people knew how amazing it is."
And I'm not crying, you're crying.
America's Got Talent airs Tuesday nights (8 p.m. ET) on NBC.