Nike Releases Powerful Commercial Starring Colin Kaepernick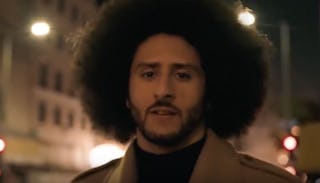 Image via Twiter/Colin Kaepernick
The commercial is set to air during tomorrow night's NFL opener
Yesterday, Nike and Colin Kaepernick hurt the feelings of racists everywhere with a powerful series of ads including one featuring the former NFL quarterback that alluded to the peaceful protests he started during his time playing for the league. Now, the brand has released a new commercial narrated by Kaepernick, and it's everything.
Amid talk of Nike boycotts (idiots burning their shoes — yes, really) and angry words from President Trump (because of course), the commercial is an absolute mic drop from Nike. Not only does it feature Kaepernick's voice, it also spotlights a number of other famous athletes as well as amateurs who overcame serious obstacles on their path to greatness.
The commercial gets the message across that while kneeling during the anthem to shine light on racial inequality and police brutality was what moved Kaepernick to act, the big and "crazy" dreams held by others are also worthy of attention. "Don't ask if your dreams are crazy…ask if they're crazy enough," he says. Kaepernick closed the commercial with the words, "It's only crazy until you do it. Just do it."
In the ad, he called out Serena Williams for being the greatest athlete of all time and gave a nod to LeBron for not just dominating on the court, but for doing big things outside of it. The commercial featured the Seattle Seahawks' Shaquem Griffin, whose left hand was amputated when he was a child, and a number of amateur athletes and their stories of triumph. A beauty queen who's also on her school's football team, an Ironman participant who recovered from a brain tumor and lost 120 pounds, and Isiah Bird, a young wrestler who competes in his sport using only his arms.
It also showcased Alphonso Davies, a Canadian teen soccer star who was born in a Ghanian refugee camp after his parents fled the civil war in Liberia.
The reaction to the ad has been swift — and largely positive. People are loving Nike's new message.
While it remains to be seen what effect the ad campaign (and subsequent boycott) will have on Nike's business, it's clear they've touched a chord. The commercial will debut on television during tomorrow night's NFL season opening game.
This article was originally published on