HS Seniors Pose As Pop Culture Icons For Coolest High School Tradition, Ever
by Julie Scagell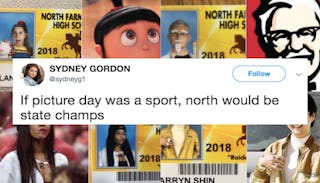 Images via Twitter
The class of 2019 did not disappoint
It's been a tradition at Michigan's North Farmington High School to dress up as their favorite pop culture icon for their school ID photos since, forever. Last year's graduating class was the first to go viral, and the class of 2019 is doubling down with some epic pics of their own.
Each of the senior class is allowed to dress up as a pop culture character — a TV or movie character, singer, a meme, you name it. They then all tweeted their school ID photos with the hashtag #NFID19 and the results are comedy gold.
Here is Molly Deighton channeling Cole Sprouse, half of the Disney Channel's The Suite Life of Zack and Cody, which she clearly nailed.
Young Sydney Gordan completely nailed Mia Thermopolis from The Princess Diaries.
Honestly screaming right now. These are too good.
This kid is basically Dwight. Like, he can just change his name now I guess.
Madeline Schultz has a true Golden Ticket with her senior year ID pic. The dress. The face. So good.
Then there's Chase Johnson, who used Doja Cat as her inspiration. I'll admit, I'm so old I had to look up what a "Doja Cat" is exactly. For those as uncool as myself, she is Amalaratna "Amala" Zandile Dlamini, a singer, songwriter, and rapper known professionally as Doja Cat.
Luckily, I have a seven-year-old so these next two I recognized right off the bat. Allie Lumberg absolutely smashed Violet from The Incredibles out of the park and Alana Appel as Agnes from Despicable Me is about as adorable as they come.
Speaking of animation, Erin Sawyer came to the party with her own props and magically transformed into the Magic School Bus. Props to her (see what I did there).
How about this for a throwback us Olds will understand? Happy little trees all year from Lily Kollin.
Then there's this gem by Claudia Cerezo who wrote, "Starting senior year off on the right foot," which is hilarious because as many who've seen her pic pointed out is actually her left foot. But hey, she gets an "A" for effort.
This throw back to The Rock circa I don't even know when is about as epic as it gets. A brown turtleneck is one thing. A brown turtleneck held down by a giant five-pound silver chain is something entirely different.
And just when you think it can't get any better, Jarryn Shin drops it like it's hot as Ken Jeong in The Hangover and we must all bow down to his creativity and his choice of movie quotes.
Of course, you can't pay homage to culture icons without a little Brittney Spears and Ri-Ri. Well played, ladies, well played.
Or, the classics. Alexa, Audrey. Can barely tell the difference.
And no one wants to leave out Colonel Sanders, because that would just feel all kinds of wrong.
Judging by these kids' creativity, I'd say there's a 100 percent chance they will all have amazing futures. Well done, class of 2019.