North West Hilariously Shades Kim's Home Decor When She's Mad At Her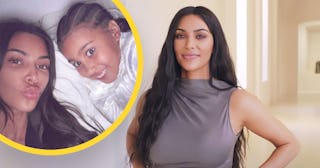 Vogue/Youtube
Kim Kardashian revealed that North West gets back at her during arguments by making fun of her all-white house, and we can't stop laughing
At this point, it should surprise no one to hear yet another story about how smart, talented, and hilarious North West is. The kid is one of the youngest credited songwriters to win all kinds of awards (including a Grammy). She creates adorable TikToks alongside her mom, Kim Kardashian. She routinely writes and performs raps that no child that young should be capable of creating. And North, now 8 years old, is absolutely ruthless in how she hilariously dunks on her mom. Kim recently revealed the latest way North makes fun of her, and I cannot stop wheezing.
First, some backstory. You all know Kim Kardashian's house, right? She bought it for $60 million and completely gut renovated the inside to make it look like some sort of cross between a museum, a morgue, and the Sunken Place from Get Out. When photos of the house went viral, Kim was widely ridiculed by the internet for living in an all-white, sterile-looking home that is certainly a vibe, albeit one that is the exact polar opposite of cozy.
And it turns out the folks of the internet aren't the only ones who feel that way. North is on the people's side.
During an interview on Ellen's Mom Confessions, Kim was asked, "What's the meanest thing your child has said to you?" Her answer was about North, of course, and it's also one of the funniest things that's ever happened.
"Every time I get into some kind of disagreement with my daughter North, she thinks this is a dig to me: She'll say, 'Your house is so ugly, it's all white! Who lives like this?'" Kim explained. "She just thinks it, like, gets to me, and it is kind of mean because I like my house."
You know, it is kind of mean. But it sure is one of the funniest things an 8-year-old has ever said in the history of planet earth, so there's also that. I mean, "Who lives like this?" She really said that. North is brutal. North is only 8, but she is already a shade queen.
Anyway, we're glad to hear that Kim likes her house, but equally glad to hear that North is doing the Lord's work and keeping her uber-rich mom humble. And Kim, maybe this is a sign that a pop of color wouldn't be the worst thing, if only to get Northie off your back.