North West Surprises Classmates, Performs An Original Song At Her School Dance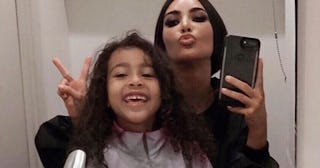 Kim Kardashian West / Instagram
North West performs an original rap at her school dance with help from dad Kanye West
Imagine going to your kid's school dance to find North West casually performing some brand new music for her friends with an assist from none else than Kanye West, because that's what happened to a bunch of LA private elementary schools kids and their parents on Saturday night.
According to footage on Instagram and TikTok taken by parents at North's school, the youngster dropped some original music on her peers at a school dance — oh and Kanye West was there too. We had no idea that six-year-old North was following in her dad's footsteps but she really just put out the cutest kiddie rap song ever.
Surrounded by her classmates and their parents, North lip synced to her new track (title still unknown) which featured total flexes like knowing Dance Moms star Jojo Siwa ("And I'm friends with JoJo") and cute lyrics about missing a pal named Hayden ("I miss you Hayden / it's been a long time / we should get on FaceTime / so I can say hi.").
North stood in the center of the dance floor and commanded that performance, proving she really inherited her father's confidence.
In the video, it's clear the parents are more excited about this than their kids who are like, "what song is this?" and the parents are all like, "My Instagram footage is going to be used in an 'E! True Hollywood Story' one day! Ahhhh!"
https://www.instagram.com/p/B5WpDxNAoIc/
North really is a star, we wouldn't be shocked if she does put out a song and it becomes the "Baby Shark" for the six-year-old set. Also, this isn't North's first time at the rodeo. Last April during one of dad's "Sunday Service" performances, Kim Kardashian shared several clips of her daughter standing in front of dozens of professional choir members and singing her little heart out.
Kim shared another video from that day where North decides that her vantage point wasn't good enough, so she grabs the mic and moves it to the front and center while masterfully adjusting the mic stand like she's been crooning to crowds for years. For reference, she was five here.
Drop the album, Northie!