When You Aren't In The 'Cool Mom' Clique
by Joelle Wisler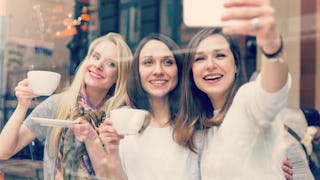 william87 / Getty
Dear Other Un-Cool Moms of the World,
I'm specifically talking to you moms who go to school drop-off every day and feel like you've entered a bizarro high school world, except the cool girls are now moms wearing Lululemons and ironic T-shirts. Are you in awe of these cool girls, too, with their lipstick and their matching handbags holding Starbucks skinny-somethings in one hand and clean-faced children in the other?
My kids are lucky if I show up to school with pants on. In my hands, I'm usually holding onto one oddly dressed child while I shove their half-eaten breakfast into their face with the other. Oh, and trailing behind me are probably some permission slips that my oddly dressed and also spacey child had forgotten to give me and now he might miss the field trip that is happening in exactly five minutes.
When my son started kindergarten, I began to have a sneaking suspicion that I might have missed out on something by sending him to preschool in a different town. But I had been working in that different town, so it made sense at the time. I never had time to think about all of the playdates, library story hours, and trips to the park that were happening in the town my children would go to school in. I was too busy working and just surviving all the newness of being a mom.
On the first morning of school, I noticed, with a bit of shock, that a lot of the moms already seemed to know each other. Everyone was hugging everyone else's kids and it all looked very merry. My son and I stood watching shyly, overwhelmed by the sheer distance between us and them. The distance could be measured in hours of friendship and mojitos, and we figured out right away that somehow we were different. For instance, there are those who care about what they look like for school drop-off and there are those of us who…don't.
I have tried a bit, although maybe not as hard as I could have because the whole situation seems a little too daunting. The cool girls have all been friends for years and I'm sure have shared everything from sore nipples to diaper changes to first steps to lost teeth. I'm an outsider and it seems painfully obvious. On the days when I do get invited, I'm reminded that my history is not their shared history and it often feels more lonely than fun.
So to all of you other moms who feel like maybe you missed the boat on making it into the "cool mom" clique because you've been working, or you just moved to town, or you feel like you just might not care that much — I'm with you. I see you standing over there with your pajamas on and your dirty-faced child and the french fries falling out of your minivan. You're my people. Let's go eat some carbs.
For now, I will just embrace all of the wonderful friends I have made away from the school yard, and I'll scroll quickly past the Facebook posts that show all of the cool girl parties and birthdays and #blessed events. We probably weren't meant to be anyway. After all, I'm not sure I could keep with all that cuticle care.
This article was originally published on