'Now And Then' Is About To Hit Netflix And We Have No Chill
by Valerie Williams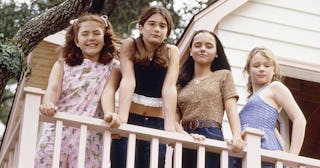 New Line Cinema
The 1995 classic is coming to Netflix and we can't wait another second
If you're a woman of a certain age, then you know The Sisterhood of the Traveling Pants was far from the first teen girl BFF comedy-drama to steal our whole hearts. That honor belongs to the OG of 1990s/early 2000s friendship gems: Now and Then. Up until now, you had to own an actual DVD of the film in order to watch it over and over again, but happily, Netflix is here to make it even easier to grow up alongside Roberta, Teeny, Chrissy, and Samantha.
Because starting August 1, you can totally stream it whenever you want. Which is obviously always.
The streaming giant brought us the good news via Tweet. "Grab your bikes and find your best friends because 'Now and Then' will be available to stream on Netflix US starting August 1."
Thank you, Netflix. We will do exactly that.
The film stars Gaby Hoffmann, Thora Birch, Ashleigh Aston Moore, and Christina Ricci as the 1971 younger versions of their characters alongside their adult counterparts, Demi Moore, Melanie Griffith, Rita Wilson, and Rosie O'Donnell respectively. The casting is, in a word, perfection. The grown-up lady versions of these characters are so well-matched with their middle school selves it's ridiculous.
The 1995 classic was a huge part of growing up if you happened to be of middle school age that year (slowly raises hand) which is why a whole bunch of gals in their mid-to-late 30s are going to lose their absolute shit at this wonderful news. Now that we're about to lose Friends and The Office from Netflix, we need something else equally beloved in the background while we fold laundry. This completely fits the bill.
This movie mattered so much at that special time in our lives because it was the perfect reminder that friendships you make at age 12 can definitely be friendships you have for a lifetime. Director Lesli Linka Glatter acknowledges its sacred place in the hearts of 90s girls. "It's about the incident in your life that happens, that one summer that changes your life forever and you will never be the same again," Glatter tells Refinery29. "Every girl I talk to seems to have a character they see themselves in."
The film's screenwriter, I. Marlene King, tells Refinery that she's thrilled with the movie's continuing meaning in the lives of girls and women. "I have stories of moms who are sharing it with their daughters now, so it's become sort of this multigenerational milestone, which I couldn't be more happy about," she said. "I love what it says about friendship, and it really models how I think young girls should treat each other."
We couldn't possibly agree more.