Obama Urges Empowering More Women: 'Men Have Been Getting On My Nerves'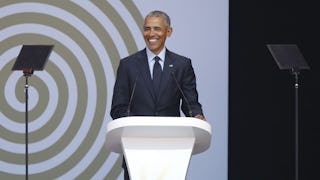 Image via MARCO LONGARI/AFP/Getty Images
Barack Obama subtly piped up in support of the #MeToo Movement
As Donald Trump faced a swirl of media attention following his recent trip abroad and face-to-face with Vladimir Putin, former President Barack Obama has been quietly traveling through Africa as part of his foundation's mission to better the world and his Leaders: Africa program.
In his second speech in South Africa, in which he was addressing young African leaders during a town hall in Johannesburg, he spoke up about how important it is for women to have leadership roles, especially when it comes to policy formation — and his comments seemed to reference the current #MeToo movement.
"Women in particular, by the way, I want you to get more involved," Obama said according to a CNN video. "Because men have been getting on my nerves lately."
"Everyday I read the newspaper and just think like 'Brothers, what's wrong with you guys? What's wrong with us? We're violent, we're bullying. Just not handling our business," he continued. "I think empowering more women on the continent, that… is going to lead to some better policies."
He then stated: "The one thing you can't do is pretend that politics doesn't matter and say to yourself, 'that's too corrupt, that's too broken, I'm not going to get involved in it' because at some point if you are ambitious about what you are doing in your home country, you will confront politics."
The speech, in which he addressed students of the African Leadership Academy, is his second in South Africa this week. They responded with clapping and cheers.
The day before, he spoke at an event honoring Nelson Mandela, in which he not-so-subtly called out current politicians.
"We see the utter loss of shame among political leaders where they're caught in a lie and they just double down and they lie some more," he said. "Politicians have always lied, but it used to be if you caught them lying they'd be like, 'Oh man.' Now they just keep on lying."
Obama also made headlines in Africa this week by dancing with his 96-year-old step-grandmother. Because we didn't love him enough already.
Obama offered the crowd at the intimate school event another important piece of advice: concentrate on your actions and not on labels:
"A lot of politicians think in terms of 'I want to be governor, mayor, prime minister, president, member of parliament.'" he explained. "So they see it as sort of a position to get, a prize to win and they then blindly follow that ambition. If on the other hand you're worrying more about what you want to do … if that is your mission, you may never become mayor, governor, prime minister but during the 10 years that you would have been striving to get that position, you would have been helping thousands, tens of thousands, hundreds of thousands of people."
Obama's Africa trip wraps up tomorrow.
This article was originally published on