Offset Just Shared Video Of Cardi B In Labor
by Valerie Williams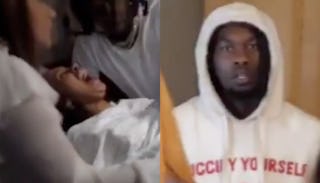 Image via Instagram/Offset
Offset posted footage of Cardi B in labor as part of a video announcing his group's new documentary
Cardi B is basically on top of the world right now. She's officially the first female rapper to win the Grammy for Best Rap Album, she's using her political smarts to destroy Tomi Lahren on Twitter, she's mom to the adorable Kulture, and she's inspiring Girl Scouts to slay their cookie sales goals.
Now, she's allowing the world to see possibly the most intimate moment of her life so far — the moments right before she gave birth to her daughter.
Last night, after his wife scored a history-making Grammy win, rapper Offset shared an Instagram teaser that appears to be a promotion for his group Migos' upcoming documentary. It ended with never-before-seen footage of Cardi in labor.
https://www.instagram.com/p/BtuckrRF9Oi/
The teaser showed clips of the group with their families and during performances with the end featuring Cardi appearing to push — and Offset looking extremely like every man in the delivery room ever.
Cardi gives a final shriek any mom who's been in labor will recognize, and then the camera cuts to Offset looking a bit tense. The teaser ends there with no indication of how much of Kulture's birth will be included in the full film, but we're already loving the moment the couple chose to reveal.
Migos' Instagram account shared the teaser also, and I guess we'll have to wait until its release on February 22 to know more. But in the meantime, let's take a walk down memory lane.
Up until this video, Cardi and Offset had kept all things regarding their baby girl pretty private. They've only revealed one photo of her sweet face so far — and what a photo it was. Kulture is gorgeous and looks exactly like her momma.
Although we haven't seen more of her face, we did get to hear her precious tiny voice saying "mama" in an Instagram video. Cardi shared an adorable clip last night (with an emoji hiding Kulture's face) of the 7-month-old babbling away. Cardi's reaction is basically every mom ever hearing her baby say "mama" for the first time — our entire hearts.
But when it comes to pregnancy, postpartum depression and anxiety, and what it's like adjusting to her post-baby body, Cardi has been extremely open.
https://www.instagram.com/p/BlV8dpUlO3s/?utm_source=ig_embed
https://www.instagram.com/p/Bl4S70CncEp/?utm_source=ig_embed
She also wasn't afraid to admit she "underestimated this whole mommy thing" and that having a baby threw her for a bigger loop than expected. She shared with fans that she would have to pull out of her planned tour last fall with Bruno Mars because she just wasn't ready to leave Kulture so soon.
We hope this clip of Cardi in labor is just the start of her sharing even more about her motherhood experience. Because we can all use more celebrities keeping it real about the things every mom struggles with.