This Disney Swim Collection Is A 90's Kid Dream Come True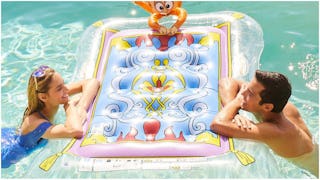 Image via Oh My Disney
There's a Disney swim collection for adults and you're gonna want EVERYTHING
What do you get when you combine Disney with the sweet, sweet joy of summer? This new adult swim collection, which features everything from an Aladdin swimsuit to Mickey Mouse slides. Now let's all just close our eyes and wish for pool time to be here immediately.
Let's start with that Aladdin swimsuit. It features a midnight sky, a romantic moment with Jasmine, and a secure halter strap so you don't accidentally flash everyone due to the adorable off-the-shoulder cap sleeve design. So many wins all around.
Keep channeling the ~power~ of the genie with this Magic Carpet Beach Towel, which is super bright, super pretty, and even includes those magical golden tassels. A whole new world, HERE WE COME. Or just lying on the beach, chillin'.
And I mean, magic carpet beach towels are cool and all, but a magic carpet pool float? Be still my heart. Also, Abu will come along for your ride, which just makes everything so much better.
More of a Lion King gal? Snag this cover up and put it on while you're poolside, listening to "Circle of Life" on repeat.
And, yup, you're gonna need this Hakuna Matata towel while you're at it. Because beach days are fun and all, but they're much, much better when you've got some Timon and Pumbaa by your side.
You really can't go wrong with a Mickey Mouse swimsuit. You're a grown-ass woman who loves Disney and you should own the heck out of it. Especially in a silver one-piece that's actually surprisingly chic.
Have you burned your feet while walking on the beach one too many times? These Lion King slides will protect your toes from all of that unbearably hot sand. Also, they're completely adorable.
Not trying to say your Disney beach adventures won't be complete without this adorable black and white Mickey Mouse towel, but I'm not not saying it.
Also, there's really no better way to get tipsy by the pool than with this Mickey Mouse disco ball tumbler. Please note the very fun straw. Probably best to order several so one is always clean for your beach adventures.
Guilty of dropping your phone in the ocean one or two or twelve times? This Mickey waterproof phone holder has got your back. Now you can officially attempt all those cool, fun water selfies without feeling deep, deep regret.
Prepare to live your very best Disney beach life this summer. Mickey and Abu would be so proud.
This article was originally published on