Olivia Newton-John And John Travolta Reunite Dressed As Danny And Sandy
by Julie Scagell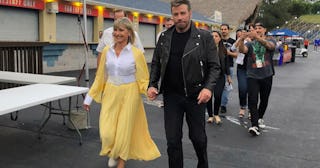 Instagram/John Travolta
John Travolta and Olivia Newton-John put their 'Grease' duds back on and look exactly like they did 40 years ago
Danny and Sandy are back after 40 years — and they're looking better than ever. John Travolta, 65, and Olivia Newton-John, 71, reunited during the Meet n' Grease sing-along event at the Coral Sky Amphitheater in West Palm Beach, Florida on Friday. The stars will be hosting three screenings of their hit 1978 movie and will join fans after each screening for a Q&A. They encouraged fans to dress up as their favorite character and then surprised them by taking their own advice.
Travolta shared several pics on Instagram, captioning one "Grease is still the word." Boy is it ever. "First time in costume since we made the movie," Newton-John captioned a similar picture. "So excited!!" The pair are scheduled to make an appearance at the Meet n' Grease event in Tampa as well on Dec. 14 and will hit the Jacksonville event on Dec. 15.
After the screening, Newton-John made a quick costume change in favor of her "bad girl" identity in the original film donning a leather jacket and black leggings and looking as amazing as she did 40 years ago. The T-birds were also there along with the director of Grease, Randal Kleiser.
Newton-John auctioned off the original infamous leather jacket she wore during the Grease finale for a whopping $243,000. It was sold to raise funds for the Olivia Newton-John Cancer Wellness and Research Center which she founded in 1992 during her first battle with cancer. She beat it again in 2013 but in 2017 she was told her cancer had metastasized and spread to her bones.
The jacket was recently returned to the star to put on permanent display at the Melbourne, Australia-based research institute. "The odds of beating a recurring cancer using the newest emerging therapies is a thousand-fold greater than someone appearing out of the blue, buying your most famous and cherished icon, and returning it to you, which is what I'm going to do right now," the media tech entrepreneur who bought the jacket told Newton-John. "This jacket belongs to you and the collective soul of those who love you. Those for whom you are the soundtrack of their lives. It should not sit in a billionaire's closet for country club bragging rights."
Fans were thrilled to see the duo back together — a welcome jolt of nostalgia. "We did something life-changing, making that film," Newton-John told People back in 2018. "[At the premiere] you got the feeling from the energy that something was happening. It was a huge response. I feel grateful to be a part of that and to have worked with him. We've stayed friends ever since."