Olivia Wilde Thanks Strangers Who Helped Her Through Son's 'Defcon 1' Tantrum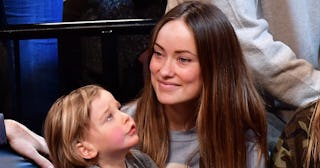 James Devaney/GC Images
Stars are just like us — their toddlers throw tantrums in public that embarrass the crap out of them
If your child hasn't thrown a massively embarrassing tantrum in a public place, then you probably don't have kids. It happens to all of us — even the best of us. Some experience these epic-style meltdowns weekly, while the luckier ones only have to endure them once in a blue moon. And yeah, celebrities aren't immune to their kids pulling crap like this, because their spawn are just like ours: living, breathing little creatures who don't always know how to manage their emotions.
Olivia Wilde recently had the pleasure of living out one of these public nightmares, when her 5-year-old son with Jason Sudeikis, Otis, had a major tantrum in a public eatery. Instead of viciously judging her, throwing dirty looks her way and taking smartphone photos and videos to share on social media, some total strangers rushed to her rescue. The experience was so amazing that she shared it on social media.
"Couple days ago my kid was having a level 10, defcon 1, couldn't-control-his-body meltdown at a restaurant. It happens. Poor guy was hungry as hell and overwhelmed. I was holding four bags and my 2 yr old. It was chaos," she wrote.
"The place was packed and we were very much on display. I was in way over my head," she continued. While she managed to keep her cool, she admits she was totally dying inside. During the madness, two total strangers, a young man and woman, approached and asked her if they could help.
"I swallowed my pride and said yes, please, and they walked with us, placed my stuff into my trunk, and even put my daughter in her car seat, while I tried to soothe my son," she wrote. "I thanked them and they said, "hey no problem. We all have days like this."
Which is basically the understatement of the decade. Wilde was "so moved by this simple act of kindness" — and rightfully so. "Their generosity profoundly effected my (and my kids') reality that day," she added.
She concluded by revealing that the act was inspirational to her, and would motivate her to pay it forward. "I can't wait to do this for someone else. Humans are good. We can't forget that," she concluded.
Instead of shaming her for "allowing" her son to throw a tantrum in the first place, the response to her post was overwhelmingly positive. Many shared their own stories, while some hailed Wilde for accepting help from strangers.
Wilde isn't the only celebrity to experience public tantrum hell. Drew Barrymore recently shared photos of her daughter's Disney emotional deterioration, while Kate Middleton was snapped a few years back dealing with daughter Charlotte's momentary meltdown. Even actual princess kids have their hard days, y'all.
However, her experience is a reminder to all that it takes a village. We all need to do our part to help other parents in their moment of need — especially when they aren't even asking for help.