How Can College Students Make Money Online?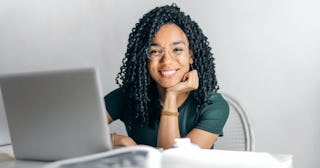 Photo by Andrea Piacquadio from Pexels
The last thing you really want to worry about when you finally get to college is money. But hello, adulting! Money woes are definitely a thing —especially with the rising cost of college tuition. You still want to soak up the college experience, though, which clearly led you to look into online jobs for college students. As you can tell by the title of this article, you've come to the right place, young padawan.
Online jobs can be an ideal solution for creating cash flow without cramping your busy schedule of class and extracurriculars. However, not all online jobs are created equal. Some are glorified pyramid schemes. Some are downright scams. So, to make sure you don't start your college career off on the wrong foot, we compiled a list of legitimate ways to make money online.
The below options have never been more relevant than now as a global pandemic has impeded many in-person tutoring, off campus, and even on campus jobs. As universities across the country opened for in-person learning for the fall 2020 semester, many were forced to immediately cross over to full-time remote as COVID-19 outbreaks spread across campuses nationwide. And while health and safety is of utmost importance, many young college students are left wondering how they could make extra money now that so many college jobs are no longer an option.
When you're ready to start bringing in a flexible source of income, check out the following gigs that can be done from the comfort of your dorm room.
Online Tutor
Have you always thought it would be fun to be a teacher? Well, you can give it a test run by becoming an online tutor. These jobs can pay anywhere from $14 per hour to $20 or more, so it can be lucrative. Some companies require a college degree, so you'll have to do some homework (see what we did there) to find one that fits both your skill set and schedule. A few ideas: Tutor.com, Wyzant, and Qkids.
If you did exceptionally well on your PSATs or SATs you can also score a job with a test prep company or go freelance and tutor students from your old neighborhood. It may be annoying to have your proud mama walk around the neighborhood telling all your neighbors what a smart student you are, but it might lead to a parent looking for some extra test prep help for their teen.
This has never been more relevant than during a global pandemic when students have had to suddenly adjust to remote learning, a process that might not be conducive to learning for many. With millions of middle school and high school students needing extra one-on-one time to fully grasp their course work, an online tutor can be a fantastic option.
Virtual Assistant
If you pride yourself on being a helpful, efficient, and organized person, becoming a virtual assistant (or VA) might be your ideal side hustle. This job is basically exactly as it sounds — you do things like answering emails, booking appointments, and anything else the busy person hiring you doesn't have time for. VA gigs vary in pay but generally pay between $10 to $20 per hour.
Survey Taker
In full disclosure, doing online surveys is not going to be the thing that makes you a college millionaire. But if you're just looking to make a few extra bucks during your downtime, this could be a great fit. Most surveys pay between $1 and $3 and take only a few minutes to complete. Popular online survey sites include Swagbucks, Survey Junkie, Ipsos i-Say, and MyPoints.
Social Media Manager
You have the benefit of having been raised during this highly digital day and age. So, let's be real, you're social media savvy, right? You may be able to leverage that into a successful online job. Businesses need a social media presence to engage with customers and promote their brand — but many don't have time or lack social media skills. Check out freelance sites like Upwork to see what companies are looking for social media marketing and management.
Freelance Writer/Blogger
As someone who started freelance writing in college, take it from me — it's the kind of online side gig that can definitely turn into a career. It isn't always easy to get your foot in the door with higher-paying clients right away, so focus on building your portfolio. Places like HubPages, ProBlogger, Contena, Glassdoor, and Indeed basically always have freelance writer job listings available.
Search Engine Evaluator
Sites like Lionbridge and Appen could lead you to search engine evaluator job listings. Which could, in turn, lead you to wonder WTF that even is. Here's the deal: Search engines contain errors that can only be caught by real human eyes (sorry, AI). So, big search engines like Google and Yahoo! will pay to have you pore over their pages and offer feedback on quality, accuracy, and usefulness.
Captioner
This is pretty straightforward. All you have to do is transcribe the audio portion of a video into written form. Well, that's not technically all you have to do. This job also requires you to sync the audio with the video. It takes a minute to get the hang of it, but it's relatively mindless work. Since 20 hours of captioning per week can net you around $1,080 per month, it's work that you'll want to look into.
Data Entry
Computers can't do everything! If you're good at reading handwriting, you can get paid to take data from handwritten docs and drop it into a spreadsheet or database management system.
Transcriptionist
Again, we don't mean to pick on computers, but they have their limits. That includes being able to accurately interpret all human speech. Accordingly, companies will bring on freelance transcriptionists to listen to audio and turn it into written words. Rev, the same company that hires captioners, is one of the most popular providers of transcription jobs, too.
Customer Service Support Member
Are you good with people? Calm in a crisis? Spend some of your spare time putting out proverbial fires as a customer service rep. Big companies like Apple, Amazon, and U-Haul often seek freelancers to fill these roles. The pay isn't the best in the world, but a part-time gig can easily lead to regular work and pay bumps over time.
Web Researcher
Anyone who loves to go down a good Google rabbit hole would undoubtedly love being a web researcher. For around $8 to $10 per hour, you log in and search the web for answers to the provided questions. Head over to Wonder and fill out a five-minute application to get started.
Call Reviewer
You know how when you're on the phone waiting for a customer service rep you hear a message that says, "This call is being monitored or recorded as dialed"? Well, that's kind of your central focus as a call reviewer. Working for sites like Humantic, you'll listen to these calls and categorize them with appropriate tags.
Mystery Shopper
There are lots o' mystery shopper scams out there, so be very careful when pursuing this path. But if being paid to "shop" sounds like your dream job, take heart! There are plenty of reputable companies out there. Did we mention many of these jobs pay you per mystery shop and reimburse you for purchases made in the process? Score.
Moderator
For those of you who are good at keeping your cool (not to mention keeping the peace), you might consider taking a side hustle as a moderator. You can find listings for this type of work on sites like Indeed and Upwork. What does it entail? Reviewing content posted online and guiding the discussion… or debate. This could be classified as easy work, but it can also be emotionally taxing.
Task Completer
Think of this role as similar to the VA gig, except you're working online for a company or brand without any sort of human engagement. Here, you'll log in and take "tasks" up for grabs, which could include anything from transcription to writing. Amazon Mechanical Turk is arguably the most well-known platform, although you can also find this type of gig on Clickworker.
This article was originally published on