Oprah's Explosive Interview With Harry & Meghan Nabs Her An Emmy Nom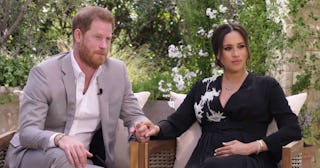 CBS/Youtube
Oprah's bombshell interview with Meghan Markle and Prince Harry could nab her an Emmy Award at this year's ceremony
Congratulations are officially in order for Oprah Winfrey, because the media mogul just scored an Emmy nomination for her explosive interview with Meghan Markle and Prince Harry earlier this year. The 2021 Emmy nominations were announced today ahead of the ceremony in September, and Winfrey earned a nod for Outstanding Hosted Nonfiction Series Or Special as the host of the bombshell interview, which aired back in March.
Oprah with Meghan and Harry: A CBS Primetime Special gave a glimpse into Meghan and Harry's experiences as senior royals, with the couple sharing what led them to step down from their royal duties in 2020. Few will forget the no-holds-barred discussion, which included the couple opening up about the racism Meghan and their firstborn child, Archie, allegedly experienced at the hands of other royals, as well as Meghan getting unflinchingly candid about her mental health and the disturbing thoughts she experienced during her pregnancy with Archie.
In the interview, Harry and Meghan revealed that there were "concerns and conversations" within the royal family about Archie's skin tone before he was born, and that the family wouldn't give Archie a royal title or protective security even though other grandchildren received those benefits. "The most important title I will ever have is mom," Meghan said in the interview. "The idea of our son not being safe, and also the idea that the first member of color in this family not being titled in the same way that other grandchildren would be." The family also declined to defend Meghan as she received a barrage of racist treatment by the British press, all of which ultimately led the couple to step down from their royal duties altogether.
Fellow nominees in the same category include My Next Guest Needs No Introduction with David Letterman, Stanley Tucci: Searching For Italy, United Shades Of America with W. Kamau Bell, and Showtime's VICE.
As for Oprah, she's already been honored by the Emmys multiple times. Along with this being her eighth Emmy nomination, she has won one Emmy, taking home top honors for Outstanding Made For Television Movie for Oprah Winfrey Presents: Tuesdays with Morrie in 2000. She has also been celebrated for two big honors, serving as the 2014 Hall of Fame Honoree and winning the Bob Hope Humanitarian Award in 2002.
We'll have to wait until Sunday, September 19 to see if she takes home a statue for her interview with Meghan and Harry, but with millions of viewers from around the world having tuned in to watch, it's no doubt an unforgettable moment for the trio and viewers alike.