14 Things You Probably Need If You've Caught The KonMari Bug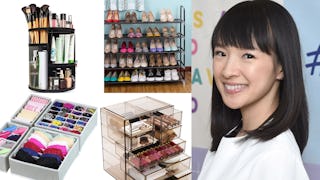 Gary Gershoff / Getty
So, you've done it. You've rid your home of items that don't "spark joy." Your heart is light and your soul is filled with gratitude.
But you've realized that maintaining a KonMari level of tidiness is going to require some tools. Lucky for you, we've compiled a list of our favorite organizational products to help you maintain your joy-sparking possessions and display your beloved mementos.
Because you need to keep your countertop clear, but you can't just stick your makeup in a drawer. You use it daily and need to be able to access it quickly. Also, it's pretty.
On the other hand, if you do like your cosmetics tucked away, this case is positively gorgeous and can sit on your countertop, dresser, or you could even stash it in a cabinet, though we think it's too pretty to hide away.
Because some items always ends up shoved in the back and forgotten. For spices or office supplies or a nice assortment of chocolate. Sparking joy is really the point here, right?
Because, as Marie herself recommends, our most beloved sentimental items shouldn't be shoved in a box and forgotten. Display your memories with this pretty frame.
Um, these are genius. They're made to stick in a laptop case or carry-on but are so incredibly versatile we want to stick them all over the house to keep random tiny things in order.
Because you LOVE Marie's method for folding clothes so they stand up all nice and neat and visible, and you want your undies to look as orderly as your T-shirts and jeans with as little effort as possible.
I mean these can literally be used for anything. We wouldn't be surprised if Marie has these in her own house.
Because that one cabinet under the kitchen sink is always trying to become a hot mess. Problem solved.
Stop it. Just stop it. These are adorable and you can stick them on just about anything and they're reusable. *Throws them in the cart*
Obviously, you'll label these drawers with the reusable chalkboard labels.
For your office white board or the fridge–maintain your spark of joy by keeping your desk and counter surfaces clutter-free.
Because there is nothing joyful about digging out your large saucepan that's nested under the other two sizes and having all the clatter wake the baby.
I mean obviously your books spark joy so you didn't throw them out. Voilà, now they're art.
I actually already own this one–we have it set up in the garage right next to the door that leads into the house. When the kids remember to put their shoes on it, it's handy AF (and we fastened it to the wall so it's super sturdy).
And now you have everything you need to maintain that KonMari spark of joy. Happy tidying!
We are a participant in the Amazon Services LLC Associates Program. We may earn fees by linking to Amazon.com and affiliated sites.
This article was originally published on