From The Confessional: 'O' My — Y'all Have A Lot To Say About Orgasms
by Team Scary Mommy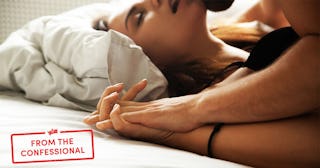 fizkes/Getty
There are a lot of great things in life, but not much compares with a good, strong orgasm, amiright? And for men, oftentimes getting to that finish line isn't super hard. In fact, sometimes it's a given. But for women… well, it can be tricky. It's not a guarantee, especially if you're only using one method in your attempt. Some of us need external stimulation while having sex. Some of us need waaaaaay more foreplay to even get us in the right mindset. And some of us really just need some alone time with our vibrator and no partner at all.
There are endless ways to get to the top of that mountain, so it's important for women to learn what works for their bodies and not be afraid to advocate for their own sexual pleasures. And maybe be willing to try new things! Because when you get there—like really, really get there—OH. MY. GOD are you glad you do.
Go easy on yourself. Most women need clitoral stimulation to orgasm. You aren't broken at all. Tha's just normal sexual mechanics for females.
Confessional #25845987
I can't orgasm from clit stimulation alone. I also can't orgasm from penetration alone. I need both, whether I'm masturbating or a man is "helping" me
Confessional #25846016
No one has ever given me an orgasm on their own, H has come the closest but I always end up using my hands or a vibrator as an assistant during sex or I'll do the vib solo. I'm 36... I need it to happen at least once in my life :,(
Confessional #25845487
not orgasm by insertation only is not broken, it's quite normal. it does not work for me and lots of women either. H knows it and handles with well *blush*
Confessional #25846006
Lots of women (like looooooots of women) need a little "assistance" in order to orgasm. Straight penetration often isn't enough, so don't hesitate to try other things. And definitely never think something is wrong with you, because this is 100% normal.
DH's dick isn't all that impressive, but he's an absolute GOD at fingering. He brings me to the edge of orgasm, backs off, and brings me back again so I'm begging him to finish me. When he mercifully, finally let's me orgasm, I'm a happy, quivering wreck.
Confessional #25844895
When we last had sex, DH did a thing where he used his fingertips to lightly but rapidly tap my clit through the covering labia. He said it was something he read about. I laughed at him but, seconds later, I suddenly orgasmed so hard I almost shit myself.
Confessional #25841980
DH has ED, so he gets me off orally or w/his fingers. While he can't get hard enough to fuck, he's horny and he can still cum, so he then goes to the bathroom to jack off to a little porn for relief and comes back to bed w/me. I get an orgasm AND no mess!
Confessional #25841014
It's also crucial that your partner understands your needs and prioritizes them, alongside their own. It's great if they can "handle" it and help you climax with whatever means necessary.
DH & I always have GREAT sex but today he gave me an earth shattering orgasm. My teeth were chattering & and my entire body was tingling like crazy. God I love that man!!
Confessional #25845737
I'll GLADLY have sex with only one person for the rest of my life- my H fucks me like a porn star, gives oral like he's late on rent and gives me the most amazing orgasms I've ever had! No desire to EVER be with another man!
Confessional #25844544
I LOVE SEX. 🙂 11 yrs & 2 kids later, & neither of us can go more than a day w/o. It keeps me calm & makes marriage feel kinky & fun. For us it lasts 45 min & I cum 2-3x to hubby's 1x. Which means I orgasm on average 15x a wk!
Confessional #25843286
My husband keeps coming up with new ways to make me orgasm. He has never-ending passion and enthusiasm for making me cum multiple times. 14 year wedding anniversary this week, and we have 6 kids. Whoever said sex gets worse in marriage?!?
Confessional #25842199
Of course there are lots of women who successfully get good old fashioned orgasms from sex every time, without issue. But if that's not you, it's okay. It's not a lot of us.
Y'all. I just figured out how to give myself a g spot orgasm. Holy fuck. I really don't think I ever need a cock inside me again. That was fucking marvelous.
Confessional #25841903
A hitachi or any vibrating magic wand with a very soft sock over it or a blanket over it on my clit is way better than any man could ever be. Best orgasms of my entire life have come from vibrating wands and ZERO insertion. No man or dildo required.
Confessional #25845909
I don't know whether to feel thrilled or depressed that I've reached the age of 38 to discover what a real orgasm is and that's thanks to a vibrator.
Confessional #25845439
Listen closely: Never underestimate the power of a good vibrator. Seriously. Life changing. No one should have to live their whole lives without good orgasms. GET ONE.
I didn't have my first orgasm until I was 25 and bought a clit suction vibe. I thought I was broken. Turns out my husband just isn't very good in bed…
Confessional #25841584
at this point i'd rather orgasm myself than let dh try. i have to fake it w/him but he is a kind man and takes me away for weekend trips several times a year. i guess our love from youth will have to carry us thru. we enjoy being together otherwise.
Confessional #25844666
love dh after 30 yrs but i have to fake orgasms w/him now. he does not have the hard on or energy to satisfy me. he tries but can't. so i pretend then take care of it later. i find myself wanting to be alone but i won't do that to him or kids.
Confessional #25843066
watched porn and rubbed one out. dh ill and has ED and cannot give what i need. no desire to cheat, just need orgasms a few times a week. he uses my vibe, but i do it better. so i fake it w/him and take care of me later. never thought it would be this.
Confessional #25840598
The reality is, many of us have partners who really can't get us there, so we gotta do it ourselves. Whether that's adding in extra stimulation during sex or just heading to the bedroom by ourselves and a toy, we'll get it done. Because we deserve a good, strong O after a long ass day, don't we?
Seriously, girlfriends. Get yours—anyway you can and anyway that feels good to you. Your sexual satisfaction should be a priority for you and your partner and nothing should stand in the way. Not his ED, not your own embarrassment of buying something, not your insecurities about telling your partner you've been faking it for years. So get it and don't look back.