Best 40th Birthday Gifts That'll Make Her Feel Like She Has Her Sh*t Together (No Gift Cards Here!)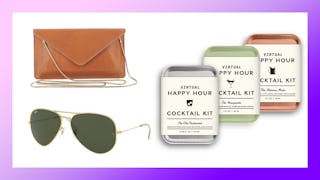 Choosing 40th birthday gifts for female friends — or for your wife, or sister-in-law, or girlfriend — can be tricky. It's smack-dab between the 30th birthday and 50th birthday milestones, but it still deserves its fair share of glory, especially for a woman. By then, she may have started a family or is in the midst of raising one, she's become well-established in her career, and with a mix of experience and youth, she's the prime of her life.
That said, 40 is also the age where we tend to put more attention on gifts for our children than something for ourselves, so if you're looking for a memorable gift for a woman turning 40 in your life, it's the perfect birthday to treat her to a special something. Whether the birthday girl is your longtime bestie, a fellow book club enthusiast, or your sister-in-law, these fun and clever 40th birthday gifts are ideal for the occasion. Whether you're looking for a funny trinket for your bestie or a splurge-worthy gift for your wife, check out our top picks for women turning 40.
40th Birthday Gifts For Female Friends
40th Birthday Gift Ideas For A Wife