50 Genius Things That Improve Your Home A Surprising Amount For Less Than $35
The home upgrades you deserve.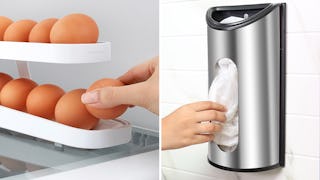 We may receive a portion of sales if you purchase a product through a link in this article.
Home improvement doesn't have to cost an eye-watering sum of money, nor does it have to eat up all your free time. These days, you can scroll through Amazon and find the most clever products that'll bring some well-deserved upgrades to your home for an affordable price — and with barely any effort required on your end.
For the time-crunched and budget-conscious, this curated list of genius ways to improve your home is about to make your day — maybe even your year. It includes everything from a handy egg dispenser to a wireless doorbell, even a belt hanger you probably didn't know existed. All of these items share one thing in common — they'll make everyday tasks a whole lot better.
For more affordable home upgrades, take a look at "The 50 Cheapest, Best-Looking Home Upgrades On Amazon."