Actually Unique 50th Birthday Gift Ideas For Guys (Not A Tie In Sight)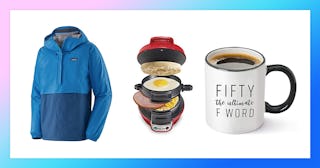 Patagonia / Amazon
If your husband, partner, friend, or family member is about to turn 50 years old you may be wondering what to get him for a birthday present. Buying for the guy(s) in your life is always tricky, but what makes the perfect gift for someone who is about to go "over the hill," as they say? First of all, there's no hill and we're as young as we feel! But still, the big 5-0 is a milestone birthday and deserving of a thoughtful gift. He's reached the half-century mark, after all.
When deciding on the "perfect" gift, consider his interests and what he doesn't already have. It can be difficult, whether you're looking for birthday ideas for your husband, birthday ideas for the 50-year-old man who has everything, or birthday ideas for your dad, so we came up with the ultimate list. We've got gift ideas ranging from a golf-shaped cheese board to a bad dad jokes book and truly everything in between. Whatever the personality of the guy you're buying for, we've got something on this list.
Below we pulled together the best non-boring 50th birthday gifts for men. And not a tie in sight, we promise.
50th Birthday Gifts For Him
Funny 50th Birthday Gifts For Him
Unique 50th Birthday Presents For Him
50th Birthday Gifts For Dad