7 Awesome (And Free!) Playgrounds That Encourage Exploration, Risk-Taking, And Creativity
by Lisa Sadikman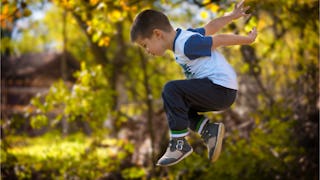 hektor2 / Shutterstock
I recently took my 6-year-old daughter to a new playground. The interconnected beige structure with pops of blue and orange sits on a squishy, forgiving surface and is surrounded by a sturdy metal fence. It offers two slides, a wobbly bridge to run across, a 5-foot high climbing wall along one side. It's your typical, neighborhood playground.
My daughter quickly clambered up, took a few turns on the slides, and gamely crossed the relatively low monkey bars. She went back and forth twice, then landed lightly on the ground. Rubbing her hands together, she looked around, and said, "This place is boring, Mom."
I couldn't argue with her. Within 20 minutes, my daughter had mastered all there was to master at this shiny, well-built playground. Nothing challenged her physically and she didn't have to figure out how anything worked in order to play on it — and this was in the big kid area for ages 5–12.
Research shows that taking measured risks and overcoming them is an important part of healthy child development. Yet so many playgrounds are purposely designed to avoid risk. Less abrasive materials, lower heights, and fewer challenging activities combined with parents' anxiety over injuries mean our kids don't truly get to push their physical and creative limits on these cookie-cutter playgrounds. When our kids don't have the chance to master a risky skill, like jumping from a slightly uncomfortable height, they can develop anxiety later on, and not only about physical challenges.
When I was a kid, I roamed freely around my neighborhood and the adjacent wooded land with my friends. We played hide-and-seek, hauled fallen branches around, and dared each other to cross rotting logs. We trekked through muck, plucked unknown berries from unnamed bushes, and raced each other through the brush — all completely unsupervised. At dinnertime, we showed up at our respective kitchen tables out of breath, dirty, and maybe even a little scratched up. Whatever we'd experienced out and about belonged solely to us.
I'm probably idealizing my childhood, but allowing kids to be independent, create their own relationships, and engage and explore their world as they see fit has real merit. Is it possible to allow our kids to experience a little more risk and independence when they play?
Communities around the nation believe it is. Inspired by freeform playgrounds in other countries, communities in the U.S. are taking into account the kinds of healthy play-based experiences children naturally gravitate toward.
This isn't a trend back to the arguably dangerous and relatively simple metal playgrounds of yore. Instead, these new playscapes aim to balance safety and risk, blend more seamlessly into their surroundings, provide lots of loose parts, and focus on coordination and collaboration skills. That doesn't mean the bright, primary colors and rigid layouts of current play structures will disappear. What it does signal is a trend toward more thoughtful design, a respect for nature, and how best to support our kids' innate curiosity about themselves and the world around them.
Here are seven awesome — and free — playgrounds around the country that honor natural child development even if it makes us parents a little nervous.
Adventure Playground covers a half-acre right along the San Francisco Bay and is chock-full of movable parts. Using wood, hammers, nails, and paint, kids constantly add to this creative play space and figure out how to work together without parents getting in the way. Staff members keep an eye on things and help out when asked by the kids. There are plenty of structures to climb, places to hide, barrels to roll around in, and a zip line.
This is the flagship location of the Imagination Playground brand. The distinct feature of this urban playground is the large, loose blue foam blocks jumbled in a pile or in various states of build. Playing with loose parts that fit together in many different ways encourages kids' creativity without end. Another cool feature: There are interpreters on hand to supervise and help the kids communicate about their projects.
Located in Shelby Farms Park, this space was designed with input from the people who use it most: kids. It features six play "nests," each focusing on a different type of play, plus a giant tree house, flowering arbor, grassy area, and net climbing structure.
Spread over 10,000 square feet in a meadow, this natural playground is built entirely of materials found in the surrounding environment. There's an elven village with pine-cone dolls, lots of sticks for making forts, and several trails to explore. Many of the structures are made of red cedar which is native to the area.
While this modern playground doesn't exactly blend into its desert surroundings much, it more than makes up for its blaring colors with an amazing 50-foot Genesis climbing tower that can hold 250 people at once. If your kids need a challenge with a good dose of risk, this is the place. There's also a large mesh-rope climbing structure that's good for building coordination and a splash pad for hot days.
Made of natural wood and built into a series of hills and valleys, this playground features water and sand play, wooden branches, stumps, and wooden blocks to haul around and build with. There are swings and slides built into the hills as well as seesaws and a wheelchair accessible merry-go-round.
This maze-like space is made up of 2,000 recycled 55-gallon steel drums designed by students at Auburn University's Rural Studio. Kids can run, climb, leap, and hide among the drums. There are sound tubes and sensory rooms concealed throughout the maze as well as plenty of shade from the drums that hang overhead.
In addition to these amazing play spaces, here are a few unique playgrounds that focus on specific experiences: the Musical Playground in Moab, Utah, where kids can play on and with enormous working instruments; Harry Thomas Sr. Playground in Washington, DC, which is math-themed and uses the Fibonacci sequence in its design; and Brooklyn's Playground in Pocatello, Idaho, which features high-backs swings, smooth surfaces for easy mobility, and ramps leading to structures so kids of all physical abilities can play together.
Risk-taking, skill-building, and independent exploration are all huge parts of healthy child development. Giving our kids opportunities to romp around on their own and test their abilities helps them grow. All we have to do is learn how to step back and let it happen.
This article was originally published on