7 Ways to Help Your Kid Get Over Self-Consciousness About Exercise
by Jenny Chen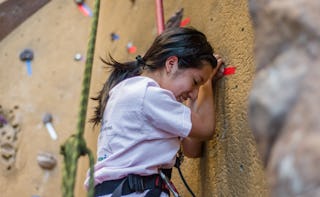 It was easy to enroll Cynthia Brown's daughter in martial arts and dance classes when she was younger. But as schoolwork started piling up and sedentary activities like texting and surfing the Internet became more the norm while regular physical activity became nonexistent, Brown grew concerned. She tried encouraging her daughter to join a sport or restart her dance classes but her daughter refused. "She would always tell me that she wasn't good enough and that she didn't feel comfortable moving in front of other people," Brown said.
In a study released earlier this year by the American Heart Association, self-consciousness was the most commonly cited reason among children and teens for not exercising. Kids can feel self-conscious about exercise either because they're overweight or because they feel like they're uncoordinated or lack the skills necessary to play a team sport.
So what do you do when your kid is too self-conscious to get moving? We rounded up some of the best tips from experts around the country:
1. Start solo
Sandra Micken, a child psychologist practicing in Dillon, Montana suggests helping your self-conscious teen by choosing family activities that your child finds interesting but don't involve much (if any) interaction with other children.
Micken suggests hiking or other outdoor activities as a family, gardening, or YouTube fitness videos. However, Micken says that it's especially important to make sure that your child has a say in what kinds of activities he or she participates in. "As the child gets healthier with his/her family and gains confidence in his body, he can transition to other activities that involve people outside the family—but it's really important that the child gets to choose what these are," said Micken.
2. Start small
If you can, enroll your child in a small group (whether it's sports, dance, or exercise) that focuses on having fun rather than competitiveness. A small class will ensure that your child gets the personal attention and support of the teacher or coach and your child will also have the opportunity to get to know the other kids in the class.
3. Walk the walk
Get ready for a hard truth—sometimes the best way to teach your kids self-acceptance is to do it yourself. That means engaging in a particular exercise or activity that we know we are not good but showing kids that we can enjoy ourselves nonetheless. Whenever music starts playing from one of the nearby fields, high school softball coach and psychologist Frank Bevacqua says he drops everything and starts dancing—terribly. "This gives an unspoken permission to be less than perfect at something…the stigma is gone," Bevacqua said.
4. Look beyond exercise
Self-consciousness about exercise is likely not limited to exercise, said Bevacqua. Kids and teens who are self-conscious about exercise benefit from boosting their confidence in other parts of their life. Confidence is a muscle that needs to be exercised and you can help your child ease into it by doing other things outside of their comfort zone. "It is important that we foster in children self-acceptance and participating in activities for their own enjoyment and not for how others view us," said Bevacqua.
5. Enlist a mentor
Someone who is closer in age to your child can be an invaluable resource says Colin Hutzler, director of Next Level Sports and Leadership Academy. "A lot of times kids, especially teenage boys, don't feel comfortable telling their parents everything," Hutzler said. "A mentor can provide that safe space where they feel comfortable."
Hutzler uses stories from his own high school years as a soccer player to relate to his students and explain to them that working through the beginning stages of mastering a sport can be difficult for everybody. "Everyone has something that they need to put in extra time and I always tell them that this could be the one thing that they need to put in the extra time," Hutzler said. "The story I always use is my junior year in high school when I just barely made the varsity soccer team…I worked endlessly to get to where I needed to be." Be on the lookout for that young adult that your child really connects with and looks up to whether it's an older cousin, a family friend, a local sports coach or a teacher.
6. Get friends involved
Encourage your kids to think of physical activity as fun instead of a chore. Getting your kids together with friends to play outside is the cheapest, healthiest, and most fun way to get your kids moving says Minna Herskowitz, owner of Sandbox Fitness. Herskowitz suggests getting kids together to play tag, participate in relay races, or just a game of pick up soccer.
In the study from the American Heart Association mentioned earlier, 104 children and teens cited lack of skills, lack of energy, self-consciousness, and lack of motivation as reasons why they didn't exercise. But when those kids participated in physical activities with friends, they saw those factors as much less of a barrier.
"Clinically, much of the focus on increasing physical activity involves engaging the family and encouraging the patient to be more active, but this study suggests that encouragement may not be sufficient," said Jessica Graus Woo, an associate professor of pediatrics at Cincinnati Children's Hospital Medical Center and lead author of the study. "Clinicians may also need to consider how to get children to be active with their friends."
7. Just do it
Sometimes the biggest barrier is just starting. Stephanie Rach, founder of a nature based play program called Chipper Moments, encourages parents to incorporate physical activity throughout the day instead of making it a major event. Just encouraging your child to walk more (to school, the grocery store, library, etc.) can help said Rach. "Don't make comments. Flow naturally through activities…children won't question the motive, and the movements will burn calories," said Rach.
"Once your child has engaged and built up physical stamina they will be more open to the idea of participating in physical activities. Encourage but don't force a sport, and allow your child to explore until they find the sport which works best for them."
This article was originally published on