A Dad Accidentally Sent His Kid To School With An Adult Beverage
His story had other parents sharing their very worst school lunch mix-ups.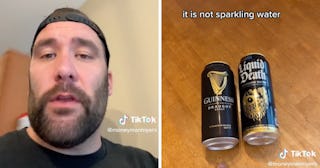 @MoneyManMyers / TikTok
Whoopsie daisy! No one is perfect, and practically all parents at some time or another have found themselves throwing their kids' lunch boxes together at zero dark thirty while half asleep. It's a prime time to make a mistake, and this dad made a big one.
Will Myers, who usually runs a popular series about personal finance called Money Man Myers, took a short break from his day job to share a hilarious parenting fail, and the resulting video has racked up millions of views and thousands of comments.
"Welp, I've got to go pick up my kid from school today because I made a big mistake," he begins. "Whenever my son was born, the best advice I got was 'you know more than you think you do,' but today is not that day."
The video then switches to two cans. One is black Guinness beer can with gold writing, while one is a black Liquid Death (a sparkling water brand) can with gold writing. They look pretty damn similar.
"You see, one of these is sparkling water and he likes for me to pack that in his lunch, because it's awesome," he explains. "One of these is not sparkling water, although it looks like the sparkling water can, it is not sparkling water."
It now makes a lot of since why he's being called in to school.
"Therefore, I have to go pick up my kid from school and try to explain this situation," he says.
And if you think that's funny, definitely head down to the comments, where viewers were more than happy to share their own huge mistakes when it comes to packing kid lunches — and beyond.
"My dad sent me to school with a Mike's hard lemonade in kindergarten, so I think it's just a normal dad thing," one person wrote.
"I sent two packs of cigarettes in a bag of paper plates and napkins to my daughter's class," a mom wrote, adding a weeping emoji to her comment.
"Today I sent my child with his brother's diaper bag instead of his book bag," another tired parent wrote.
More than a few teachers also shared stories that made everyone else feel less alone.
"We had a third grader bring a spiked Arnold Palmer into school this year, it happens," one wrote.
"A kid brought in a can of White Claw thinking it was regular sparkling water, too," another educator wrote.
Well, there you have it. Everyone makes mistakes, and sometimes that mistake is sending your grade schooler into the classroom with booze. Apparently it happens more than you think, and it seems like it's not the end of the world — as long as you have a little bit of a sense of humor and don't mind a trip to the principal's office.