Amanda Gorman's New Kids Book About Activism Is Everything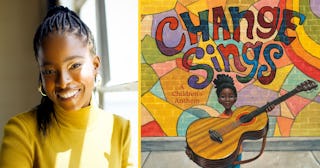 Danny Williams and Viking Books
Presidential inaugural poet Amanda Gorman has a new kids book out about creating change, and it's fantastic
Remember that part of Joe Biden's Presidential inauguration when the entire nation broke down in tears together when a relatively unknown poet took the stage and stole all of our hearts while also demanding change and a better world? That was our introduction to Amanda Gorman, 2017 National Youth Poet Laureate as well as the youngest ever inaugural poet.
She's in the headlines again, this time for publishing her first children's book, Change Sings: A Children's Anthem, and we are just as affected by it as we were her inaugural poem. It's already hit #1 on the New York Times best sellers list.
Gorman is publishing the kids' book after skyrocketing into the spotlight in January. Among other things, she landed a modeling contract and was the first-ever poet to grace the cover of Vogue and to perform at the Super Bowl. More importantly, her first book of poetry, The Hill We Climb, became a best sell—and sold out in many stores across the country.
But through it all, Gorman has stayed true to her focus as an activist who cares deeply for the environment, racial justice, and gender justice—and her new kids' book reflects how she is going to help make real change happen.
The book (which is for kids 4-8, but which I enjoyed thoroughly at my undisclosed age) follows a young girl around town as she hands out instruments to form an ever-growing band. As the musical group grows in strength and volume, she speaks, in lyrical verse, about how we can all promote change and make the world a better place.
"I wrote this book because I believe every child has the ability to make a difference and that they are the leaders of the future," said Gorman in a statement from Penguin. "I hope readers will enjoy Change Sings and remember that all of us have the power to change the world."
The verse is wonderfully done, with Gorman using all of the literary tools like half-rhymes and wordplay that made us cry like little babies at the inauguration:
I show others tolerance
Though it may take some courage.
I don't make a taller fence
But fight to build a better bridge.
The books themes are simple but moving: if everyone works together, we can accomplish so much. And if you do the hard work of finding the love and power within you, you can direct it outward.
"I feel that often when people are afraid of change, it's not necessarily change that we are afraid of. It's powerlessness. It's helplessness," Gorman recently told Variety. "It's feeling that we have no agency to control the changes that are occurring."
The book's joyful, distinct illustrations are by Loren Long, who has illustrated the #1 New York Times bestsellers Of Thee I Sing by Barack Obama and Love by Matt de la Pena.
"Amanda Gorman is an extraordinary talent and I'm honored to illustrate her beautiful poem with such an important message for readers everywhere," Long told Penguin Young Readers Group.
Gorman is also coming out with her first full-length book of poems in December, Call Us What We Carry, which will explore things like history, feminism, identity, and erasure. And yep, we're buying that too.