Apple's New "Check-In" Feature Is A Dream For Worried Parents
For all those "Text me when you get home" people!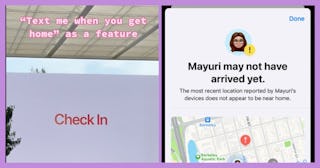 TikTok / @thebirdspapaya
There are no shortage of location services, tracking devices, and apps that parents can download onto their phones to track their kids help ease the worries of their kids out in the world on their own.
Even if they're at school or a friend's house, there is something comforting about knowing where exactly they are on Planet Earth. But what if there was a feature built-in to an app that we all use everyday, all day?
At the Apple Worldwide Developers Conference 2023 event on Monday, the tech company announced a new iOS 17 iMessage feature called "Check In" that will make it easier to check in with friends and loved ones.
Apple Check In feature explained
According to Apple, the new iMessage feature will send automated updates to selected contacts (mom, dad, BFF) to let them know when you've arrived at your destination. The feature can also track a journey and send automated updates if the person you're tracking suddenly is delayed or deviates from the route. The feature also allows users to share locations and check battery levels.
"Whether you're walking home after dark or going for an early morning run, you can start checking with a family member or friend to let them know when you get home safely," the keynote video narrator said, as captured by an audience member who shared it to TikTok.
"As soon as you arrive, Check In automatically detects that you're home and lets your friend know."
Where was this when I was 8 years old, riding my bike to a friend's house and constantly forgetting to call my mom when I made it there safe?
"But if something unexpected were to happen like on your way, it can recognize that you're not making progress towards your destination and check in with you. And if you don't respond, it can automatically share useful information such as your current location and the route you took," the narrator continued.
"You'll also be able to see your battery level and cell service status so they know if you might be able to take their call and any information shared with your friend is end-to-end encrypted. So, that's Check In — an easy way to feel reassured that your loved ones have your back."
One mom on TikTok shared a clip from the conference, expressing gratitude for the new safety feature.
"As a crime junkie listener and a mom of 4, this is amazing. Maybe just seems like another iOS update, but im thinking about the lives potentially saved #wwdc23," she wrote.
How to use the new Apple Check In feature
If your phone is updated to the latest iOS, the Check In feature lives in iMessage's new expandable app menu — the little plus sign to the left of the text field.
Open the thread with the person you want to be alerted when you get home. Tap the plus sign, and in the list of apps that pops up, choose "Check In."
The feature will then check your location and give an estimate of how long it will take you to get home — whether you're walking or driving. If the estimate looks off, hit the big "Edit" button and you can adjust the time.
The feature also works in reverse if you're planning to leave the house for an early morning run or a late night trip to the corner store. The feature will help you let your roommate or spouse know when you're back safe and sound. You just estimate the length of the trip and it'll alert them when you get back.
During your trip, your phone will monitor your progress and if something seems weird, Check In will ask you if things are OK — if you're in danger, you can send an alert.
Check In differs from Find My Friends or Location Services because it is not tracking your location all of the time, in real time. Check In will alert your loved ones if you don't arrive at home on time, and if you don't disable it, your friends will be able to see your current location, the route you took getting home and your phone's battery and signal levels.
Apple Check In for parents
Apple's Check In feature is truly a God-send for parents to help them gain a better understanding of where their kids are during a commute home, a bike ride, or even on a field trip at school.
How amazing is that a parent can not text their teen, "Charge your phone!" because Check In let them know their kid was at 5% battery?
Kids are forgetful. Check In takes the pressure off kids to remember to call their parent when they arrive somewhere safely and lessens the stress of parents waiting for that call.