I Hated Senior Superlatives In High School. As A Parent, I Hate Them Even More.
by Diana Park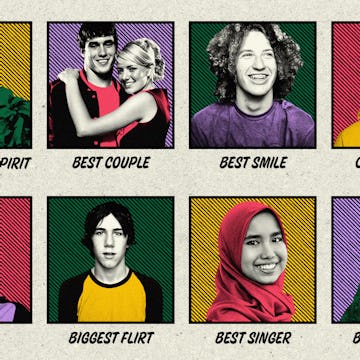 Ariela Basson/Scary Mommy; Getty Images
I was on the yearbook committee when I was in high school. I loved my journalism classes and I think having students write about their favorite memories and their goals for the future alongside pictures of their adolescent years is a true art form that's important even in this age of digital everything. But there was one thing I didn't love: senior superlatives.
Senior superlatives have no place in the yearbook or anywhere else for that matter. I felt this way when I graduated high school thirty years ago and I feel more strongly about it now that my kids are high school students.
This isn't sour grapes. In high school, I was voted best dressed. I was 17 and the nomination and the votes stroked my ego. But an acquaintance let me know that there are a lot of kids who don't have the means to buy "nice" clothes. Her words hit me and I felt materialistic. Most of all, though, I was ashamed that I lacked the self-awareness to see things from her point of view before she pointed them out to me.
About ten years later I was visiting an old high school friend and had dinner with her parents. First the subject of prom king and queen came up, then we started talking about senior superlatives. My friend's dad was still pissed that his daughter didn't win "Most Likely To Succeed." Here we were sitting around the table talking — and getting genuinely mad! — about something from a decade ago. But when you think about it, that title means absolutely nothing and absolutely everything all at once.
I have three kids in high school and I hear the same story every year: The popular kids get nominated and win over and over so you have a handful of students getting them all. Then there are the kids who win and it's obviously a joke. Someone wins for Best Smile who has very crooked teeth, and the guy who has never had a girlfriend and is often sitting alone at lunch gets voted Most Flirtatious.
It can be an opportunity to put kids down and make fun of them in a really freaking loud and hurtful way. Sure, maybe you think I'm overreacting or taking things too seriously, but I'm pretty confident when I say if it happened to you or your child, you wouldn't be taking it so lightly.
And yes, there are yearbook advisors who volunteer their time and spend hours with kids, but it's not on them to tell the kids who to vote for.
Then there's the flip side of actually being named "Most Likely To Succeed." Turns out, that's not great either, and some kids carry it as a burden, a pressure to succeed.
I know senior superlatives have been around forever; they're a tradition. But is it worth it? Sure, it lifts some kids up, but there are also for whom the sting of them last for a really long time.
In a time when we are so focused on autonomy and telling our kids to be true to themselves, why are we letting their classmates categorize them? We talk about inclusion, about how no one is better than anyone else, and taught to uplift each other instead of taking each other down, and then we tell them to vote on who has the best smile, best dressed, or the best couple. Then, we are telling them to have fun with it and not to take it so seriously. Eliminating this outdated tradition altogether would take care of all the hurt feelings around it and in the end, our kids aren't going to be missing out on a thing.
Diana Park is a writer who finds solitude in a good book, the ocean, and eating fast food with her kids.