Some 'First Finger Foods' For Babies Could Actually Be Choking Hazards
by Ashley Austrew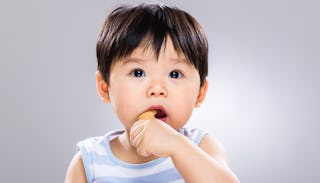 Study finds some "first finger foods" could put babies at risk of choking
Figuring out what to feed a baby isn't easy, especially when you're on the go. Sometimes if you get stuck in a pinch, it's easier to have a few convenient snack foods on hand, but now the American Academy of Pediatrics (AAP) is warning parents that many of those so-called "baby-friendly" snacks can actually be a choking hazard.
RELATED: Top 10 Healthy, Easy-To-Feed Baby Snacks (Because No One Likes A Hangry Baby)
A recent AAP study tested nine popular snacks — puffs, teething biscuits, melts, various cereals, and cooked produce — fed to babies as "first finger foods," and found that less than half of them meet all the safety standards for size, shape, and consistency. Per AAP recommendations, finger foods fed to babies should be soft, small, and easy to swallow. In the study, only Gerber Graduates Fruit and Veggie Pick-Ups met all the criteria. Cheerios and Gerber Graduates Puffs also got high marks for dissolving easily.
To test the foods, researchers looked at the sizes and shapes of different snacks marketed to "crawlers" — babies around six months and up. They also tried the snacks to see if they'd dissolve easily without the use of teeth. What they found is that the majority of snacks do present some hazard of choking, either due to their size or consistency. Snacks also tended to become harder after sitting out in the open air, meaning the longer it sits in a snack cup, the more difficult it is to chew.
Study co-author Dr. Ruth Milanaik tells Today none of the products tested are inherently "bad." Rather, parents just need to be aware of the risks and make smart choices based on what their babies can handle. "I am not saying these are not good products, and fresh out of the box they are delicious," she explained. "But we need to be more responsible and in real life, babies don't eat them fresh out of the bag."
According to the Centers for Disease Control, choking is the leading cause of death among children under four. They estimate at least one child dies from choking every five days in the U.S. and about 10,000 kids are hospitalized annually due to choking related injuries.
The AAP says they've notified companies whose snacks failed their tests, and there are likely some changes in the works. In the meantime, parents should be vigilant about which foods they feed to babies, including making sure the foods are soft and cut or broken into small pieces. When in doubt, Milanaik says go ahead and test it out yourself. "I would really love to encourage parents and pediatricians to try the products," she told Today. "There is nothing wrong with trying a piece of baby food before the child does."
When it comes to choking prevention, parents can never be too careful.
This article was originally published on