These Top-Rated Bamboo Socks Help Limit Foot Sweat And Odor
by Keri Pina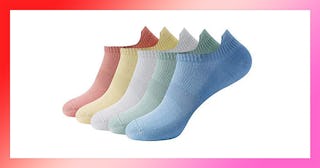 Amazon
Bamboo socks are the footwear staple you didn't know you needed. Whether it's summer or winter, they offer breathability, moisture-wicking, and durable daily comfort that just isn't quite achievable with 100% cotton options. Most bamboo socks are blended with polyester or spandex for a silky finish, and you can buy any cut you need — from knee-high to no show — so you really get the full benefits of bamboo no matter what shoe the occasion calls for. And if you suffer from chronically sweaty (or stinky) feet, bamboo fibers are naturally odor eliminating, so you won't have to throw away shoes that look great but smell terrible ever again.
I recently did a sock drawer refresh after realizing all my newest pairs were compression socks leftover from pregnancy. (Probably time to part with those nursing bras, too.) And let me tell you — do not underestimate the power of a new pair of socks! There's a reason why our parents still include them as stocking stuffers no matter how old we get. Christmas is still a ways away, so there's no time like the present to gift yourself some fresh feet to help you soldier through the rest of the year.
Here are the best bamboo socks, sure to sweep you off your feet!
Best Bamboo Socks
Best Bamboo Socks for Women
More Great Bamboo Sock Options