The 16 Best Baby Bowls & Toddler Plates To Win Mealtime
We only recommend products we love and that we think you will, too. We may receive a portion of sales from products purchased from this article, which was written by our Commerce team.
by Michelle Sparks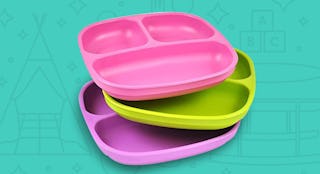 Looking for the perfect baby bowls and toddler plates for mealtime? We can all agree that feeding your baby is no easy feat, nor is it one your kitchen can come away from unscathed. It ranks right up there with folding a fitted sheet or getting your husband to help wash the dishes. Long story short, some days can be easy while others can feel impossible. Your baby's mood is constantly changing. They could be a little angel for snack time, but when it comes time for sitting down for dinner all bets are off their food is staying on the table. And while we can't help you convince your little one that yes, vegetables really are important (and no, they don't belong on the floor), we can help you pick the best baby bowls and plates to make your next meal a little more manageable—and a lot less messy.
Related: There's No Avoiding It: Your Baby Wants A Bouncer. Give 'Em One Of Our 12 Best Activity Centers.
Just like high chairs, baby monitors, and foldable cribs, there are so many options when it comes to your child's dishes. Whether it's the material (stainless steel vs. silicone, for instance) or the added features (easy-grip handles! leak-proof lids! bowls that stick!), choosing the best baby bowls and plates has more to do with your personal preferences and your lifestyle than anything else.
What are the best baby bowls & plates?
"Functional and easy to clean!" says Dr. Chelsea Johnson, Associate Lead of Pediatrics at K Health. And of course, safety is the top priority. "The American Academy of Pediatrics (AAP) recommends avoiding plastics with BPA and phthalates as they can be harmful to babies when the chemicals leach into foods when heated."
She adds that some features to consider are whether you want plates and bowls that have a suction cup bottom, which makes it harder for little ones to pick up and throw — it also keeps the piece firmly in place as they practice their coordination. Also, decide whether you want items that are dishwasher and/or microwave safe, and be sure to check each product before purchase (you may be surprised which materials can and cannot be put in the dishwasher or microwaved!). Other things to keep in mind are whether you want items that are eco-friendly and if you want bowls and plates with sections that separate different foods.
Dr. Johnson notes some popular materials that are suitable for toddler tableware, plus their key attributes:
"Bamboo has become a renewable and beautiful alternative, but don't throw it in the dishwasher. Hand wash with soap and water and let completely air dry." Also, note that these are probably not microwave-safe.
"Stainless steel is a good alternative to plastic due to strength and durability, [it's] easy to clean and sustainable." H0wever, it's "best suited for toddlers moving away from suction plates and into more real tableware for your toddler to practice with." Of course, these cannot be put in the microwave.
"Silicone is becoming widely popular too. Microwave and dishwasher safe, stain-resistant and non-stick, and doesn't react with foods or liquids."
When should I buy baby bowls & plates?
"Baby tableware can be started when your baby is at least 6 months old, able to hold their head steady, and sit in a 4-point restraint chair," says Dr. Johnson. "There is no right or wrong way to start; [you can use] just the high chair tray or immediately have baby plates or bowls, whether suction cupped or not."
No matter what type of dish you want—or what type of messy eater you have in your own home—we've rounded up the best baby bowls and plates below— from the most eco-friendly to the most stylish. Bon appetit, baby!
Best Baby Suction Bowls
Best Baby Suction Plates
Best Plates For Toddlers
Best Baby Bowl Sets
Want to make every moment as easy as mealtime? Check out the rest of our favorite baby gear.